Horses from Claiborne families won 53 graded or group stakes races globally in the first half of 2023, including 19 in the U.S.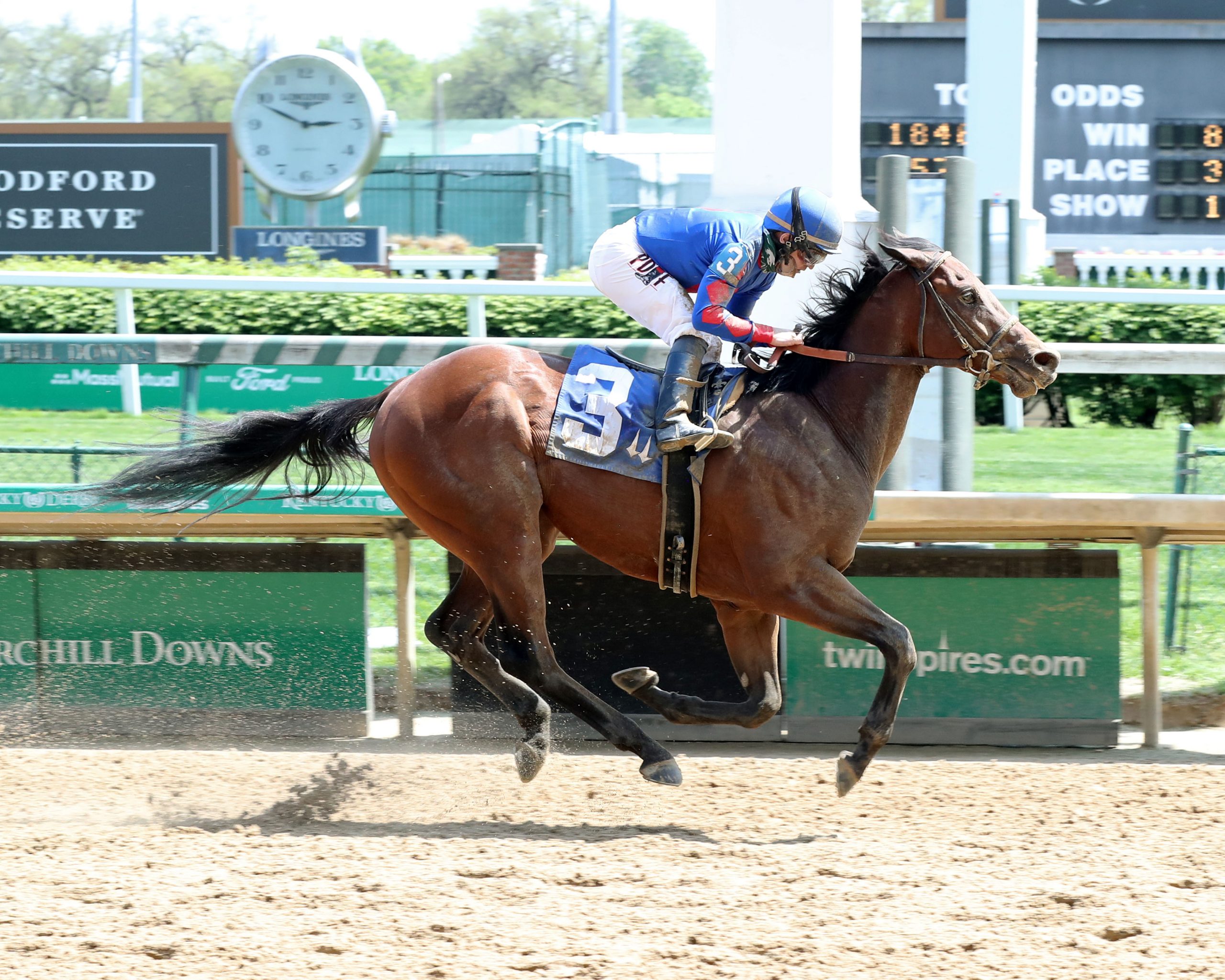 Story by B. Jason Brooks
 As the first half of 2023 is now behind us, an exciting summer of racing is here and the yearling sales are about to heat up.  As has been the case for more than a century, Claiborne Farm's influence will be felt in the pedigrees of horses making their way to winners' circles and yearlings fetching top dollar in the sales rings.
While the farm's great stallions will continue to draw the attention they deserve, the female families cultivated by the Hancock family at Claiborne Farm are quietly experiencing a very successful year.  As detailed below, the accomplishments of the Claiborne families in the first half of 2023 include more than 50 graded and group stakes wins globally in top-tier countries, including 19 in the U.S., and a healthy share of the elite world-ranked horses.
Global Influence
An analysis of the tail-female lines of graded and group stakes winners for the first half of 2023 in top-tier Part I countries or races (as identified by the International Federation of Horseracing Authorities) shows that 53 were won by 41 different horses from Claiborne families or individual Claiborne-bred mares, with a dozen of these wins being elite grade 1 or group 1 races.  (See the full list below.)  And, these graded and group wins had a truly global reach, occurring in 14 different countries: 19 wins in the United States, 6 wins in Australia, 5 wins in both Great Britain and Brazil, 4 wins in South Africa, 2 wins each in France, Japan, Saudi Arabia, United Arab Emirates, and Uruguay, and 1 win each in Argentina, Hong Kong, New Zealand, and Peru.
The graded or group stakes wins represent 25 different Claiborne families or individual mares, with the most representing imported British mares Sunstep and Rough Shod II with 6 wins each, Bourtai with 5, and Knight's Daughter, another British import, with 4.  As for how recent in their tail-female lines their Claiborne blood first appears, 16 of the 41 horses (or 39 percent) have Hancock mares among their first five dams.
Another indicator of the global influence of Claiborne families is found in the Longines World's Best Racehorse Rankings, released (here) on June 4th.  Five of the top 20 or a quarter of them are from Claiborne families, with 2 of these bred in Ireland, 2 in Japan and 1 in the U.S.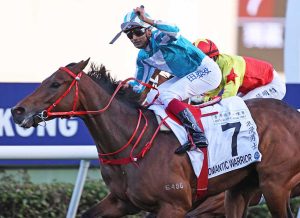 Ranked 5th (tied) in the world, Peter Lau Pak Fai's Irish-bred Romantic Warrior, by British stallion Acclamation, has accumulated three group 1 wins in Hong Kong.  The 5-year-old gelding's most recent victory came in the group 1 Queen Elizabeth II Cup in April at Sha Tin, a race he also won in 2021.  His other group 1 win came in the Hong Kong Cup last December.
Romantic Warrior is from the Fabulous Native branch of Raise a Native mare Alyne Que.  Bred by Leslie Combs II, Alyne Que produced seven Claiborne-bred foals, including Descent, by Claiborne stallion Avatar, winner of the grade 3 Affectionately Handicap in 1985 at Aqueduct.  The family also includes Muhtarram, by Alleged, winner of Ireland's group 1 Champion Stakes in 1993 at Leopardstown and a two-time Ascot winner of the grade 2 Prince of Wales's Stakes in 1994 and 1995.
Ranked 8th (tied) in the world, Ryotokuji Kenji Holdings' three-time group-1 winning Japanese-bred Ushba Tesoro, by his native stallion Orfevre, moved up the rankings after a powerful last-to-first move in the stretch to win the $12 million grade 1 Dubai World Cup at Meydan in March.  It was the 6-year-old horse's second group 1 win after a victory in his previous start in the Daishoten in December in Tokyo.  (See the Claiborne Farm blog story on Ushba Tesoro and his family here).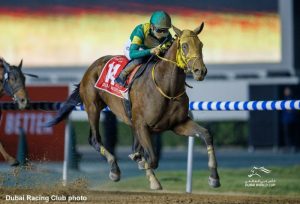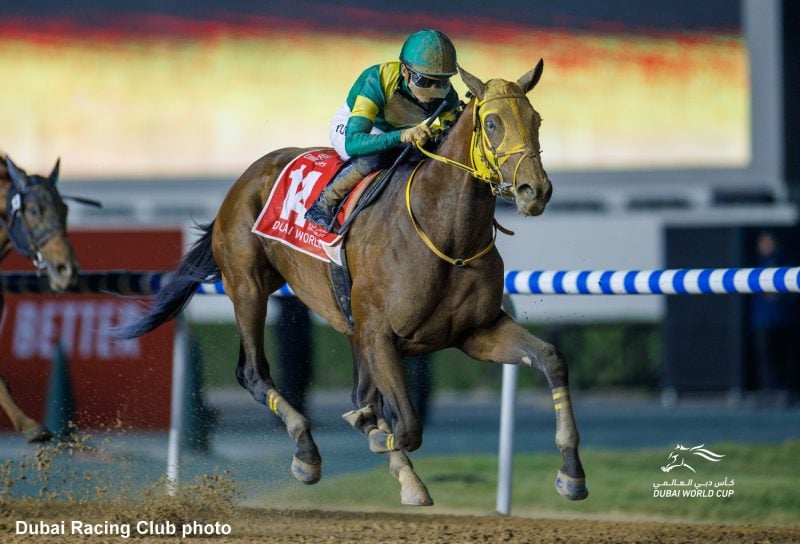 Ushba Tesoro is from the Bayou branch of the Claiborne family of Hill Prince mare Bourtai.  Bred by Marshall Field III and owned by Sylvester Labrot, Jr., Bourtai was acquired by Arthur B. Hancock Jr. in 1951 and became the ancestress of dozens of grade 1 and group 1 winners, including Claiborne's homebred 1979 Belmont Stakes winner Coastal, by Majestic Prince, and his and his Hall of Fame half-brother Slew o' Gold, by 1977 Triple Crown champion Seattle Slew.  (See the recent Claiborne Farm blog story the trio of Claiborne-bred Belmont Stakes winners, including Coastal, here.)  This is also the family of Hall of Famer Shuvee, by Nashua, who became the first mare to win the Jockey Club Gold Cup in 1969.  That year, she also won New York's "Triple Tiara" with victories in the Acorn, Mother Goose, and Coaching Club American Oaks.
Ranking 17th (tied) in the world is HH Sheikh Zayed bin Mohammed's four-time group 1-winning Irish-bred Lord North, by Irish-bred stallion Dubawi.  He became the first three-time winner of the group 1 Dubai Turf, a $6 million race at Meydan Racecourse in the United Arab Emirates in March.  (He dead-heated in 2022 with world-ranked Panthalassa, mentioned below.)  The 6-year-old gelding's resume also includes the group 1 Coral Eclipse Stakes in July of last year at Sandown in Britain.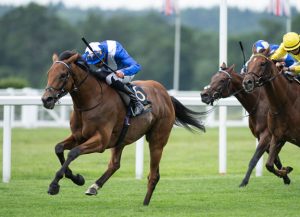 Lord North is from the Moccasin branch of the imported British mare Rough Shod II, by French stallion Gold Bridge.  Rough Shod II was identified by pedigree expert Ellen Parker as a reine-de-course or "queen of the turf" for her lasting impact as a broodmare.  Her daughter Moccasin, by Claiborne stallion Nantallah, won five stakes in 1965 and U.S. horse of the year honors, the only juvenile filly to ever earn this award.  Rough Shod II is also the matriarch of important stallions.  Her daughter Thong, a full sister to Mocassin, is the great-granddam of Sadler's Wells, by Canadian-bred stallion Northern Dancer, one of the greatest sires of all times.  Rough Shod's influence is still felt at Claiborne, with her being the sixth dam of the Hancock's homebred stallion Blame, by Arch, the 2010 U.S. champion older male.
Also tied for 17th in the world rankings is Hiroo Race Company's two-time group 1-winning Japanese-bred Panthalassa, by his native sire Lord Kanaloa.  The six-year-old earned a gate-to-wire win over the dirt in the world's richest race, the $20 million, group 3 Saudi Cup in February.  The win was a remarkable accomplishment when coupled with his grade 1 Dubai Turf win last year at Meydan, making him a dual-surface winner of elite races loaded with top international talent.  (See the Claiborne Farm blog story on Panthalassa and his family here).  He is from the Shore branch of the above-mentioned Claiborne foundation mare Bourtai.
The continued international success of horses from Claiborne female families, including four recent group stakes winners in June at the prestigious Royal Ascot meet, creates the potential for Claiborne's influence among the world's best racehorses to further grow.
U.S. Graded Stakes Winners
For the first half of the year in the United States, 19 graded stakes races were won by 14 different horses from Claiborne families, surprisingly with each representing a different female family.  Two are grade 1 winners and seven are multiple graded stakes winners.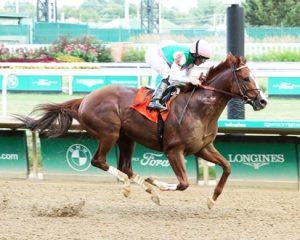 The U.S. winners from Claiborne families are led by a world-ranked grade 1 winner in Juddmonte's 5-year-old horse Elite Power, by Curlin, whose most recent success came on June 10th over the dirt in the grade 2 True North Stakes at Belmont Park.  Winner of the grade 1 Breeders' Cup Sprint at Keeneland last November and the group 3 Riyadh Dirt Sprint at King Abdulaziz Racecourse in Saudi Arabia this February, Elite Power is ranked 17th (tied) on the World's Best Racehorse Rankings (released prior to his most recent win).
Elite Power's tail-female line traces back to the Eolee branch of War Song, by War Dance, one of the oldest Hancock families that dates back to the 1870s when Richard J. Hancock acquired the foundation mare.  War Song is the ancestress of Dialed In, by Mineshaft, winner of the grade 1 Florida Derby in 1991 who now stands in Kentucky at Darby Dan Farm.  This is also the family of 1991 grade 1 Santa Anita Derby winner Dinard, by Australian stallion Strawberry Road, and her half-sister Eliza, by Mt. Livermore, a dual-grade 1 winner of the 1992 Breeders' Cup Juvenile Fillies at Gulfstream Park and 1993 Santa Anita Oaks.
Grade 1 success came this year for the Claiborne families from 4-year-old filly A Mo Reay, by Uncle Mo, who pulled off an upset by defeating a strong field of graded stakes winners, including a trio of Bob Baffert trainees, in the Beholder Mile stakes over the dirt at Santa Anita in March.  Her previous graded stakes win came a month earlier in the grade 3 Bayakoa Stakes at Oaklawn.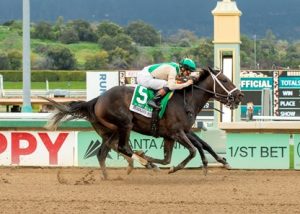 Bred in Kentucky by T & G Farm and owned by Hunter Valley Farm, a Mo Reay descends from Claiborne-bred mare Gradation, sired by Triple Crown-winning Claiborne stallion Gallant Fox.  Gradation is also ancestress of 2006 grade 1 Coaching Club American Oaks winner Wonder Lady Anne L, by Real Quiet.
Two graded stakes were won this year by 3-year-old filly Red Carpet Ready, by Oscar Performance, who has 4 victories from 5 career starts, all on dirt, including the grade 3 Forward Gal Stakes in February at Gulfstream Park and, most recently, the grade 2 Eight Belles Stakes in May at Churchill Downs.  Bred by Lynn B. Schiff and owned by Ashbrook Farm and Upland Flats Racing, Red Carpet Ready's fourth through eight dams are Claiborne mares, representing the prominent Yarn branch of Knight's Daughter.
Most well-known as the dam of Claiborne's 1958 Horse of the Year and Hall of Famer Round Table, Knight's Daughter was bred by King George VI before being purchased at the December 1951 Tattersalls sale by Arthur Hancock, Sr.  Her descendants include multiple champions, grade 1 winners, and important sires, including Claiborne homebred Pulpit, by A.P. Indy, a multiple graded-stakes winner who suffered a career-ending injury in the 1997 Kentucky Derby before returning home for stud duty and siring the likes of successful sires Tapit and Sky Mesa.  This is also the female family of Johannesburg, by Hennessy, winner of 2001 champion 2-year-old honors in both Europe and the United States after capturing three group 1s overseas and the grade 1 Breeders' Cup Juvenile at Belmont Park.  Red Carpet Ready's Claiborne-bred fourth dam Yarn produced grade 1 winner Tale of the Cat, by Storm Cat, a sire of more than 100 stakes winners.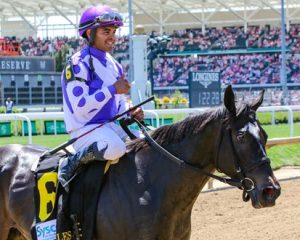 Ocala-based Peter and Anne Vegso's homebred Curlin colt Lord Miles gamely won the grade 2 Wood Memorial Stakes at Aqueduct in April, a significant Kentucky Derby prep race, after he battled three-wide in the final sixteenth with two foes and nudged ahead to win by a nose.  His unraced dam Lady Esme, by Majestic Warrior, is a half-sister of Caledonia Road, by Quality Road, winner of the grade 1 Breeders' Cup Juvenile Fillies in 2017 at Del Mar who sold for $2.3 million as a broodmare prospect at the 2018 Fasig-Tipton November Sale.  Their tail-female lines trace back to Claiborne's imported Lord Rosebery-bred British mare Peroration, by British stallion Clarissimus.  This is the female family of grade 1 winner Data Link, a Stuart S. Janney III homebred by Claiborne stallion War Front, who won the Maker's Mark Mile in 2012 and went on to become a stallion at Claiborne.  The family also includes Hymn Book, by Claiborne stallion Arch, another Janney homebred who won the mile-and-an-eighth grade 1 Donn Handicap over the dirt at Gulfstream Park in 2012.
Undefeated from three starts this year, 4-year-old gelding Catnip, by Kitten's Joy, recently won the grade 3 Monmouth Stakes on June 17th, his first career graded stakes win.  The gelding is a half-brother to China Horse Club's six-time graded or group stakes-winning filly Princess Grace, by Japanese stallion Karakontie, who ventured to Australia this year and won the group 3 Hawkesbury Crown in April.  Princess Grade has won graded stakes in the U.S. at the ages of 3, 4, and 5, including the grade 3 Turf Stakes at Kentucky Downs in 2021, defeating a strong field that included grade 1 winner Abscond, by Claiborne stallion Blame, future grade 1-winning German-bred Dalika, by her native sire Pastorius, as well as other graded-stakes winners.  Both Catnip and Princess Grace are from the Pucheca branch of Claiborne foundation mare Regal Gleam, by Hail to Reason, and are bred by former Thoroughbred Retirement Foundation chairman John Moore and his wife Susan.  Catnip's name and the selection of his sire Kitten's Joy are not a surprise, given that the Moore family's foundation is involved in the welfare of felines, as well as horses.
Regal Gleam was the 1966 co-champion two-year-old filly and is a fourth-generation descendant of the great French-bred matriarch La Troienne.  She heads a Claiborne family of several grade 1 winners that includes her daughter Royal Glint, by Claiborne stallion Round Table, a three-time grade 1 winner of the United Nations Handicap at Atlantic City and Haskell Handicap at Monmouth, both in 1975, and Santa Anita Handicap in 1976.  Regal Gleam's Claiborne-bred grandson Vision, by Canadian-bred Claiborne stallion Nijinsky II, won the grade 1 Secretariat Stakes in 1984 at Arlington.  His full brother Caerleon was the champion 3-year-old in France in 1983 and went on to be a champion sire in Great Britain and Ireland.  Regal Gleam's Claiborne-bred great-grandson Scan, by Mr. Prospector, won the 1991 Jerome Handicap at Belmont and Pegasus Handicap at Meadowlands, both grade 1s.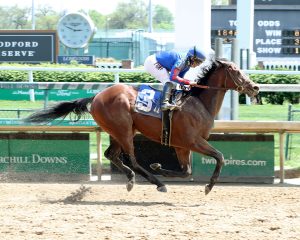 Another graded stakes winner this year in the U.S. is Claiborne-bred 4-year-old gelding Happy American, by the farm's stallion Runhappy, who "captured consecutive black-type events with his stirring Jan. 21 triumph in the $146,000 Louisiana Stakes (G3) at Fair Grounds," as reported in Molly Rollins's Blood-Horse story on the race.  Purchased from Claiborne for $385,000 by Bob Lothenbach at the 2019 Keeneland September Yearling Sale, the gelding has made five additional starts among graded stakes company, most recently placing in the grade 1 Stephen Foster Stakes on July 1st at Ellis Park, bringing his career earnings to $583,701.  Happy American is out of Claiborne mare Queen of America, by Quiet American.
This female family entered the Claiborne fold in 2009 when Queen of America was purchased by Seth Hancock at the Keeneland Horses of All Ages January Sale.  Following the Claiborne philosophy of selecting mares from successful female families, Quiet American's granddam is a half-sister to Nany's Sweep, by End Sweep, who won the grade 1 Santa Monica Handicap in 2001 at Santa Anita.  Prior to producing Happy American, Queen of American's daughter Well Monied, by Maria's Mon, was runner up in the grade 1 American Oaks Invitational in 2009 at Hollywood Park and placed in the grade 1 Del Mar Oaks that year.  Her other daughter is Claiborne-bred grade 3 winner Economic Model, by Claiborne stallion Flatter, winner of 2018 Hal's Hope Stakes at Gulfstream.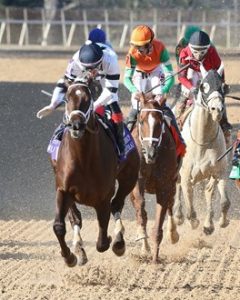 In addition to A Mo Reay and Red Carpet Ready, horses from Claiborne families winning multiple graded stakes races this year in the U.S. include: 4-year-old Uncle Mo filly Adare Manor, winner of the Santa Maria Stakes in April and Santa Margarita in June, both grade 2 races at Santa Anita.  She is from the family of Claiborne's imported British mare Rough Shod II; five-year-old Malibu Moon horse Last Samurai, winner of the Razorback Handicap in February and Essex Handicap in March, both grade 3 races at Oaklawn Park.  He is from the Galaday branch of Claiborne's imported British mare Sunstep; and, 5-year-old Ghostzapper horse Spirit of Makena – winner of the grade 3 San Carlos Stakes in March and the grade 2 Triple Bend Stakes in May, both at Santa Anita.  His damline traces back to Claiborne-bred mare Benevolence, by Claiborne's French stallion Sir Gallahad III.
Five additional horses form Claiborne families have each won one U.S. graded stakes race this year.  They include: 3-year-old Army Mule filly Danse Macabre, winner of the grade 3 Herecomesthebride Stakes in March at Gulfstream Park.  She is from the family of Bourtai (the same family as the world-ranked Panthalassa, mentioned above); 4-year-old multiple graded stakes-winning Violence colt Newgrange, winner of the grade 2 San Pasqual Stakes in January at Santa Anita.  He is from the family of the Hancock's imported British mare Pietra, by her native sire Pietermaritzburg; 3-year-old Cairo Prince filly Cairo Consort, winner of the grade 3 Sweetest Chant Stakes in February at Gulfstream.  She is from the family of important Claiborne matriarch Risque, by Claiborne stallion Stimulus; 7-year-old Lemon Drop Kid gelding Value Engineering, winner of the grade 2 Mac Diarmida Stakes in March at Gulfstream.  He is from the Claiborne family of Romanticism, by Claiborne stallion Bold Ruler; and, 5-year-old Stonestreet-bred Curlin horse Scarlet Fusion, winner of the grade 3 John B. Connally Turf Cup Stakes in January at Sam Houston.  His damline traces back to Claiborne mare Anthemion., by Pompey.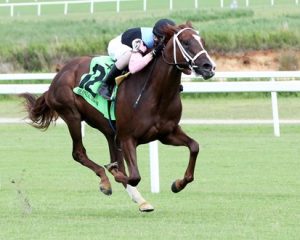 With 14 different Claiborne families representing 19 graded stakes winners in the U.S. in the first half of 2023, its clear that the legendary farm's influence goes well beyond just its stallions.
The U.S. and global success is a testament to the Hancock family's selection of mares from the best families and breeding them to the best stallions, producing some of the world's greatest racehorses for those who are fortunate enough to own them.  Look for the influence of the Claiborne female families to continue in the second half of the year, both at the sales and on the track.