Story by B. Jason Brooks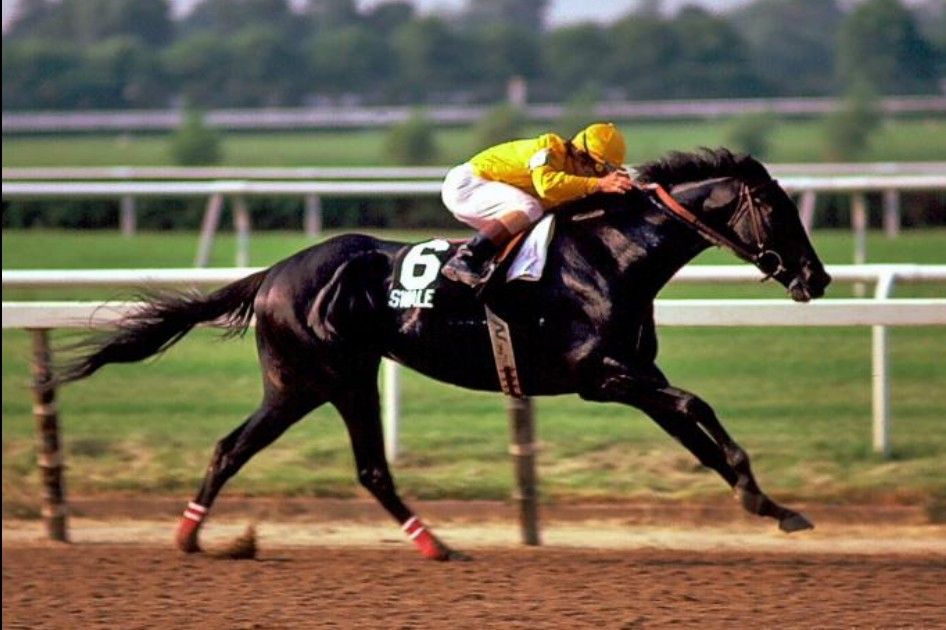 With the 149th running of the Belmont Stakes nearly upon us, it is an opportune time to consider the Hancock family's breeding success at Claiborne Farm in the third leg of the Triple Crown, commonly referred to as "the test of the champion" due to requiring both speed and stamina to win the mile and a half classic.
Widely known for standing some of the greatest stallions in Thoroughbred racing history, the Paris, Kentucky farm's stallions and their sons are responsible for an impressive 23 (or 16 percent) of all Belmont Stakes winners and a total of 65 Triple Crown races.  Additionally, Claiborne's record of achievement includes being the birthplace and/or home of 22 Hall of Famers, sires of 6 Triple Crown winners, and 17 Horse of the Year winners.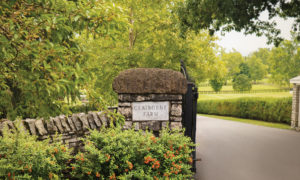 Besides just standing great sires at Claiborne, the Hancock family has had great success as breeders.  They have led the U.S. breeders list for earnings 11 times and have won the Eclipse award for outstanding breeder twice.  Their philosophy of breeding broodmares from successful female families to the best stallions has paid off tremendously.
As for breeding Belmont Stakes winners, the Hancock family has done so three times from their own broodmares, including Johnstown, Coastal, and Swale, the latter of which was the only one of the trio not sold prior to racing that went on to carry the Claiborne orange silks in the Belmont winners' circle.
JOHNSTOWN
The first Belmont Stakes winner bred by the Hancock family was Johnstown, foaled in 1935 and sired by George D. Widener's homebred Jamestown.  Johnstown's dam La France, sired by Claiborne Farm's imported French-bred sire Sir Gallahad III, was bred by William Woodward,  who sold the broodmare to Arthur B. Hancock, Sr. after the birth of her first foal in 1933.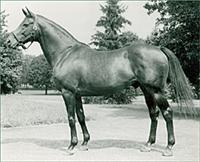 Despite having never raced, La France was out of 1921 Coaching Club American Oaks winner Flambette, by Dunbar II, a half sister to La Rablee, by Rabelais, dam of 1930 Newmarket Stakes winner The Scout, by Sir Gallahad III.  La France's half sister Flambino, by Claiborne's imported British-bred stallion Wrack, won the 1927 Gazelle Stakes at Aqueduct and produced 1934 Acorn Stakes winner Fleam, by General Lee, 1935 Triple Crown winner Omaha, by Gallant Fox, and 1938 Ascot Gold Cup winner Flares, by Gallant Fox.  (Both Triple Crown winners Omaha and his sire Gallant Fox were foaled at Claiborne.)
The Hancock family sold the first of La France's foals they bred – the 1936 colt Johnstown – to Mr. Woodward who raced him under his Belair Stud banner.  Like Belair's Triple Crown winners Gallant Fox and Omaha, Johnstown was trained by Hall of Famer James E. "Sunny Jim" Fitzsimmons.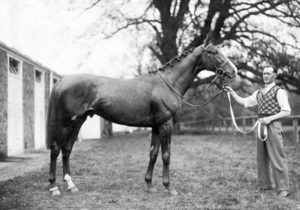 Johnstown found success as a juvenile in 1938, winning seven races from a dozen starts, including the Babylon Handicap at Aqueduct, Breeders' Futurity at Keeneland, Remsen Handicap at the now-shuttered Jamaica Race Course in Queens, and Richard Johnson Stakes at Laurel.  He continued his winning ways into his sophomore campaign in 1939, defeating older horses in his first start in Aqueduct's Paumonok Handicap.  Ten days later, he won an allowance race covering a mile and 70 yards as a prep race for what would be another significant victory in the Wood Memorial, a race that occurred just four days later.
Johnstown proved to be a great colt by crushing the field in the Kentucky Derby by eight lengths while under wraps.  It gave Woodward's Belair Stud and trainer "Sunny Jim" Fitzsimmons their third Derby win in just ten years and raised the prospect of them winning a third Triple Crown.  But, despite being named after a Pennsylvania town that had experienced a disastrous flood, a muddy Pimlico track in the Preakness wasn't to Johnstown's liking, forcing him to settle for fifth.  Prior to moving on the Belmont, he returned to his winning ways, capturing the Withers Stakes at Aqueduct with a six-length win.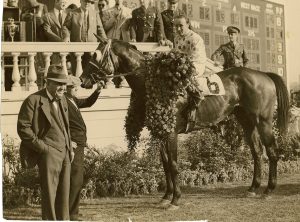 Perhaps unsurprisingly, he made easy work of the Belmont Stakes, leading gate-to-wire for a five-length win, crossing the wire in 2:29⅗, a second off of War Admiral's record.  A month after the Belmont, he added his final carer stakes win to his resume with another gate-to-wire win in the Dwyer at Aqueduct.
After a stellar racing career that totaled 14 wins from 21 starts, he returned to his birth home at Claiborne to begin standing in 1940.  Although he sired only six stakes winners, including 1946 Kentucky Oaks winner First Page, he is most notably recognized as the damsire of Nashua, runner-up in the 1955 Kentucky Derby who went on to win the Preakness and Belmont Stakes.  Long after his death in 1950, Johnstown was inducted into the National Racing Museum and Hall of Fame in 1992.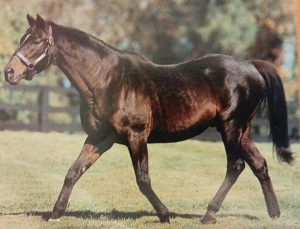 Given the success of his female family, Johnstown's dual classic wins may not have been a total surprise for the Hancock family.  His dam La France had produced Hancock-bred Jacola a year before him.  Sired by British-bred stallion Jacopo, the Hancocks sold her as a yearling to Edward Friendly.  A precocious juvenile, she won the 1937 Selima Stakes at Laurel Park on the way to earning champion two-year-old honors.  She won three stakes races at the age of three, all at Laurel, including the Washington Handicap, Maryland Handicap, and defeated eventual Horse of the Year Seabiscuit by two lengths in the Laurel Stakes.
Jacola carried on her family's success as a broodmare, producing another Belmont Stakes winner in Phalanx, by Pilate, who went on to become the champion three-year-old in 1947.  La France's other Hancock-bred daughter French Vamp, by Claiborne stallion Stimulus, would also produce successful descendants, with her great-grandson Decidedly, by Determine, winning the 1962 Kentucky Derby and her great-granddaughter Fast Dish, by Fleet Nasrullah, winning the 1967 Del Mar Debutante Stakes.
COASTAL
The second Hancock-bred winner of the Belmont Stakes was Coastal, by Majestic Prince, who won the classic in 1979.  Unlike Johnstown whose dam was purchased by the Hancocks, Coastal's female family had been well established at Claiborne before winning the Belmont.  Coastal's third dam Bourtai, by Claiborne stallion Stimulus, was bred by Marshall Field and foaled in 1942 at the Hancock's farm before later being sold as a yearling to Sylvester Labrot, Jr.  On the track, she earned two wins from a dozen starts, including a stakes win of the Pimlico Nursery, before being retiring to become a broodmare.  Claiborne bought Bourtai from Mr. Labrot in 1951 and her prolific influence as a broodmare earned her the designation of a Reine-de-Course or "Queen of the Turf" by the late pedigree expert Ellen Parker.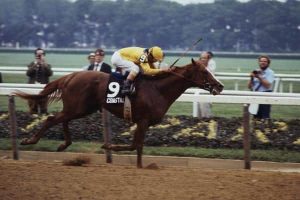 In addition to having been foaled at Claiborne, Bourtai's strong female family made her attractive to the Hancocks as a broodmare.  Her dam Escutcheon, by Claiborne stallion Sir Gallahad III, won the 1940 Alabama Stakes at Saratoga and produced four stakes winners, including 1937 Kentucky Oaks winner Mars Shield, by Claiborne stallion Diavolo.  Escutcheon's half-sister Emotion, by Friar Rock, won the 1922 Test Stakes at Saratoga and produced High Strung, by High Time, the champion two-year-old male in 1928 after winning the Pimlico Futurity, Oceanus Handicap at Jamaica, and Futurity Stakes at Belmont.  Another one of Escutcheon half-sisters, Heloise, by Friar Rock, produced a half-dozen stakes winners, including Tintagel, by Sir Gallahad III, winner of the Futurity Stakes at Belmont in 1935 and champion two-year-old male that year.
As detailed in Claiborne Farm's recent blog story "Ushba Tesoro Highlights the Dynamic Claiborne Family of Bayou" which offers a deep dive into Bourtai's successful family, she produced four stakes winners, the most significant of these being 1956 Coaching Club American Oaks winner Levee, by Claiborne stallion Hill Prince.  Levee's full sister Bayou – the granddam of Claiborne-bred Belmont Stakes winner Coastal – had an impressive sophomore campaign in 1957.  Trained by Moody Jolley for Claiborne, she earned champion three-year-old filly honors thanks to victories in the Acorn Stakes and Maskette Handicap, both at Belmont, Delaware Oaks at Delaware Park, Gazelle Handicap at Aqueduct.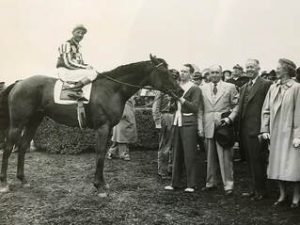 Bayou returned to Claiborne after her racing career where she produced 11 foals.  Through her daughters Alluvial, by Claiborne stallion Buckpasser, Pampas Miss, by Pronto, and full sisters Batteur, Bayou Blue and Slew, by Claiborne stallion Bold Ruler, Bayou is the ancestress of a remarkable 18 grade 1 or group 1 races in top-tier countries around the world.  But it was Alluvial who would have the most immediate impact among Bayou's daughters, producing 1979 Belmont Stakes winner Coastal and his Hall of Fame half-brother Slew o' Gold, by Triple Crown winner Seattle Slew, a champion in 1983 and 1984.
Due to Coastal's inferior confirmation, he was not a candidate for the sales and his co-breeder William Haggin Perry bought out Claiborne's share of him.  Trained by Dave Whiteley, Coastal broke his maiden at second asking at Belmont in 1978 and then won the Tryo Stakes at Monmouth Park a week later, defeating Spectacular Bid in what was also his first stakes race.  The two faced off again next time out in the grade 3 World's Playground Stakes at Atlantic City, with Coastal finishing fifth, 17 lengths behind the eventual two-year-old champion Spectacular Bid.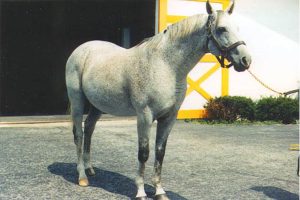 As a three-year-old, Coastal began his campaign with two allowance wins before a 13-length victory in the grade 3 Peter Pan Stakes at Belmont.  Meanwhile, Spectacular Bid had won the Kentucky Derby and Preakness and was now seeking the Triple Crown.  Due to being so lightly raced as a sophomore, Coastal's connections were hesitant to enter him for the Belmont Stakes, eventually making him a last-minute supplemental entry for the classic race that occurred just 13 days after his Peter Pan win.  In a memorable race that spoiled future Claiborne stallion Spectacular Bid's Triple Crown effort, Coastal swept to the inside path at the top of the stretch and kicked clear to win going away by three and a quarter lengths.  He would go on to win the grade 3 Dwyer Stakes and grade 1 Monmouth Invitational Handicap before placing in the grade 1 Woodward and Jockey Club Gold Cup at Belmont.
Nearly 30 years after the Hancock family acquired Bourtai, her Belmont Stakes-winning great-grandson Coastal returned to Claiborne for stallion duty and sired 19 stakes winners, including grade 1 winners Danger's Hour and Little Brianne.
SWALE
Like Coastal, the Hancock family's third and most recent Belmont Stakes winner Swale came from a female family that was well established at Claiborne Farm.  But, unlike Coastal's great-granddam Bourtai who was easily passed along to the Hancocks at Claiborne, Swale's female family came all the way from across the Atlantic.
Arthur "Bull" Hancock, Jr. imported Lord Astor's Highway Code from Great Britain in 1950, a stakes-winning mare by leading British sire Hyperion.  As detailed in the recent Claiborne Farm blog story "The Family of Claiborne Farm's Swale Carries On," Highway Code's successful descendants would prove that she was a great acquisition, creating a family legacy at Claiborne.  Of her seven foals produced at the farm, the most notable was her 1952 filly Courtesy, by Claiborne's imported Irish-bred stallion Nasrullah.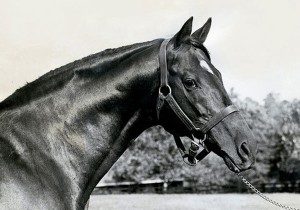 Racing for Claiborne, Courtesy placed in multiple stakes and produced a dozen foals as a broodmare, including full brothers Knightly Manner and Dignitas, by Hancock-bred stallion Round Table, both of which became stakes winners and stood at Claiborne.  Courtesy's unraced 1958 foal Continue, also by Round Table, would be primarily responsible for her female family's legacy.  Her daughter Tuerta, by Claiborne's imported Argentinian-bred stallion Forli, won the grade 3 Long Island Handicap in 1973 and grade 3 Chrysanthemum Handicap at Laurel in 1974.  She was bred to Triple Crown winner Seattle Slew, resulting in the Claiborne homebred dual-classic winner Swale.
Bred by Claiborne in 1981 and owned by the farm in partnership with William Haggin Perry, Peter Brant, and Edward Cox, Swale broke his maiden at second asking at Belmont for trainer Woody Stephens and racked up four graded stakes wins in 1983, including the grade 1 Futurity Stakes at Belmont and Young America Stakes at Meadowlands.  Having been a fourth-generation descendant of the farm's imported foundation mare Highway Code, his success was especially sweet for the Hancock family.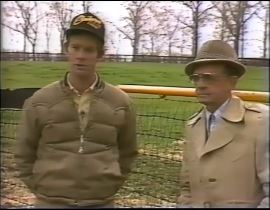 Swale began his three-year-old campaign in 1984 with three starts at Gulfstream Park, winning the grade 3 Hutcheson Handicap in March, placing in the grade 2 Fountain of Youth ten days later, and winning the grade 1 Florida Derby two weeks after that.  He returned to Kentucky and finished runner-up in the Lexington Stakes at Keeneland in mid-April in preparation for the classics.
He proved to be more than ready for the task, handily winning the Kentucky Derby by three and a quarter lengths, the widest margin in a decade.  As Steve Crist wrote in his New York Times, "Swale was far and away the best today and he probably could have won by more had he been asked.  He was near the lead early, swept to the front on the far turn, and opened his lead to more than five lengths before [jockey Laffit] Pincay wrapped up on him nearing the wire."  The Derby win was an especially sentimental one for the Hancock family.  According to the Times story, "Claiborne, probably the world's most successful and distinguished breeding nursery, previously had failed throughout its history to breed or race a Derby winner.  The farm's founder, A. B. (Bull) Hancock, died in 1972 with his dream unfulfilled.  But the last Claiborne stakes winner he saw on the track was a filly named Tuerta – Swale's mother."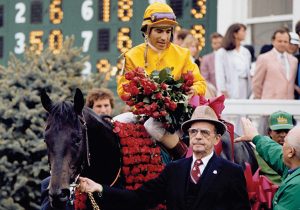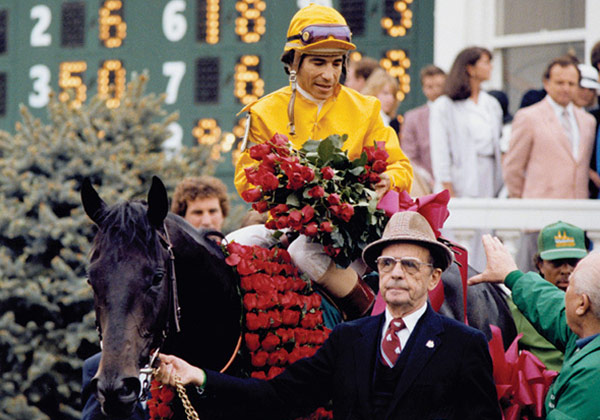 Going into the Preakness, Swale had failed to win two consecutive races in his five starts that year and trainer Woody Stephens was concerned that the colt had exerted himself too much in workouts leading up to the second leg of the Triple Crown.  His concerns would prove right, with Swale near the lead until the top of the stretch and then fading steadily to finish seventh.
Looking for him to stay true to his form that year of having won every other race he entered, Swale's connections were hoping he would bounce back for the Belmont and become the third winner of the "test of champions" bred by the Hancock family.  But this win would have a special place as he was not only from a legacy family at the farm, but he was also racing under the Claiborne banner.  Swale took the lead in the first turn at "Big Sandy," and never let up, cruising to an easy four-length victory.  His time of 2:27⅕ was tied for the fourth fastest ever from 116 runnings of the race, behind only Secretariat in 1973, Gallant Man in 1957, and Affirmed in 1978.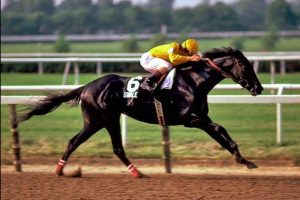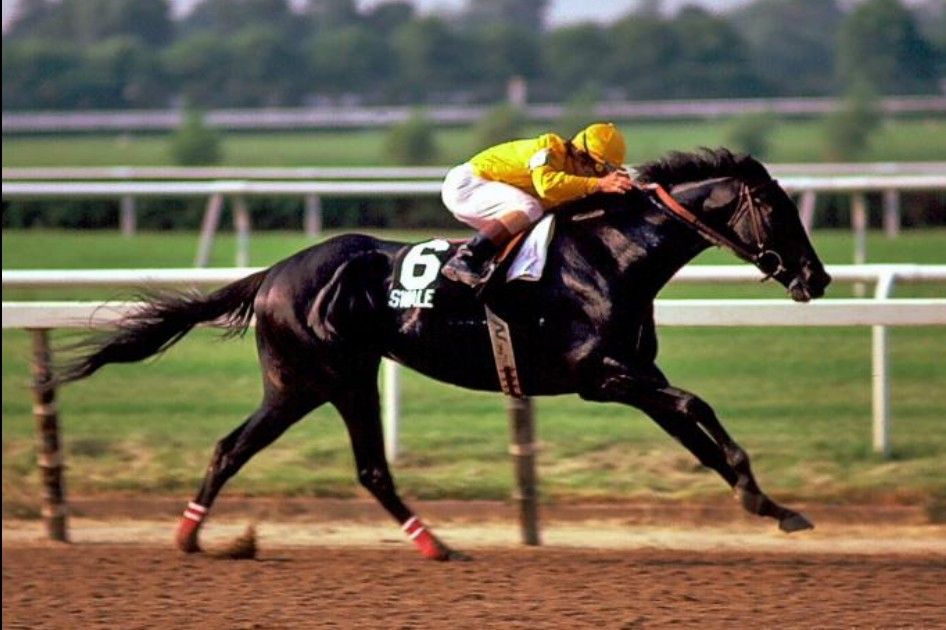 But following this great triumph soon came tragedy.  Despite never having shown any medical issues, he reared up in the barn area at Belmont and died from what studies later showed was a heart abnormality.  Despite his success and later being crowned three-year-old champion, it was a stunning loss for the Hancock family and the racing world.
Continue's 1976 filly File, by Claiborne sire Tom Rolfe, also carried on the legacy of Highway Code's family at Claiborne.  She became a stakes winner and produced Forty Niner, by the farm's influential stallion Mr. Prospector.  Carrying the Claiborne orange silks, he won the grade 1 Futurity Stakes and Champagne Stakes as a juvenile in 1987, earning the title of champion two-year-old.  Although not a classic winner, he added grade 1 wins to his resume at the age of three in Monmouth's Haskell Invitational and Saratoga's Travers Stakes before retiring home at Claiborne to become a stallion.  Additionally, five of Continue's other foals were grade 1 winners or producers for other owners.
Saturday's 149th running of the Belmont Stakes will be another test of champions, one in which requires breeding for both speed and stamina.  Although great breeders like the Hancock family have experienced this success with a trio of great colts, their experience with Belmont Stakes winners Coastal and Swale shows that it can require generations of breeding mares from great female families to great stallions.  Luckily Claiborne has had a healthy supply of both.