Story by B. Jason Brooks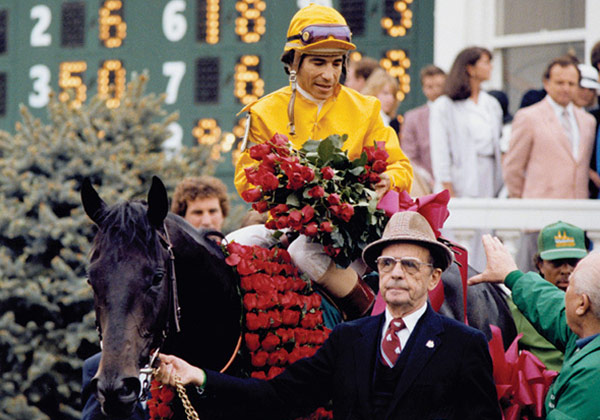 Multiple classic-winner Swale will be honored by a Grade 3 race in his name on Saturday, February 4 at Gulfstream Park. The 38th running of the Swale Stakes is sponsored by Claiborne, the farm where he was foaled and raised. In 1984, he won the Florida Derby at Gulfstream, on the way to winning the Kentucky Derby and Belmont Stakes and becoming Champion Three-Year-Old.
While Claiborne had long been recognized as one of the world's most successful and distinguished breeding farms – having foaled and raised eight previous Kentucky Derby winners for other owners – Swale was the first to carry the Paris, Kentucky farm's renowned orange silks into the derby winners' circle.
Steve Crist's New York Times story on Swale's Kentucky Derby victory demonstrated how significant the colt was to the Hancock family. In it, Claiborne's Seth Hancock stated "I've always loved this colt because of his dam, and because we bred him and raised him and broke him. He was our baby. I wouldn't sell this horse for all the money in the world. His daddy, Seattle Slew, is the most incredible sire in the world right now."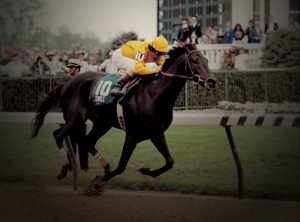 Despite being a healthy colt without any known medical issues, Swale would never end up returning home to become a stallion, with his life tragically cut short. Eight days after the Belmont Stakes win, he reared up in the barn area and died from what studies would identify as a heart abnormality. There was simply nothing that could have been done to save him. While Swale's death was a great loss for the Hancocks and all of racing, he came from a prominent Claiborne female family that continues to succeed in the U.S. and internationally.
Swale's Successful Female Family
While Claiborne's influence in breeding and racing for more than a century is widely known for its world-class stallions, the cultivation of important female families – most bred to the farm's impressive stallions – has received less attention. Swale's female family is an example of one which has produced elite winners who raced in the Claiborne orange silks as well as mares which have been sold and were successful for other owners.
The female family that would eventually produce Swale first appeared at Claiborne in 1950 when Arthur "Bull" Hancock Jr. imported Lord Astor's Highway Code (GB), a stakes-winning mare by one of Britain and Ireland's leading sires Hyperion (GB). At Claiborne, Hancock bred seven of Highway Code's foals, the most notable being Courtesy, by Claiborne's brilliant stallion Nasrullah (Ire) who Hancock also imported in 1950.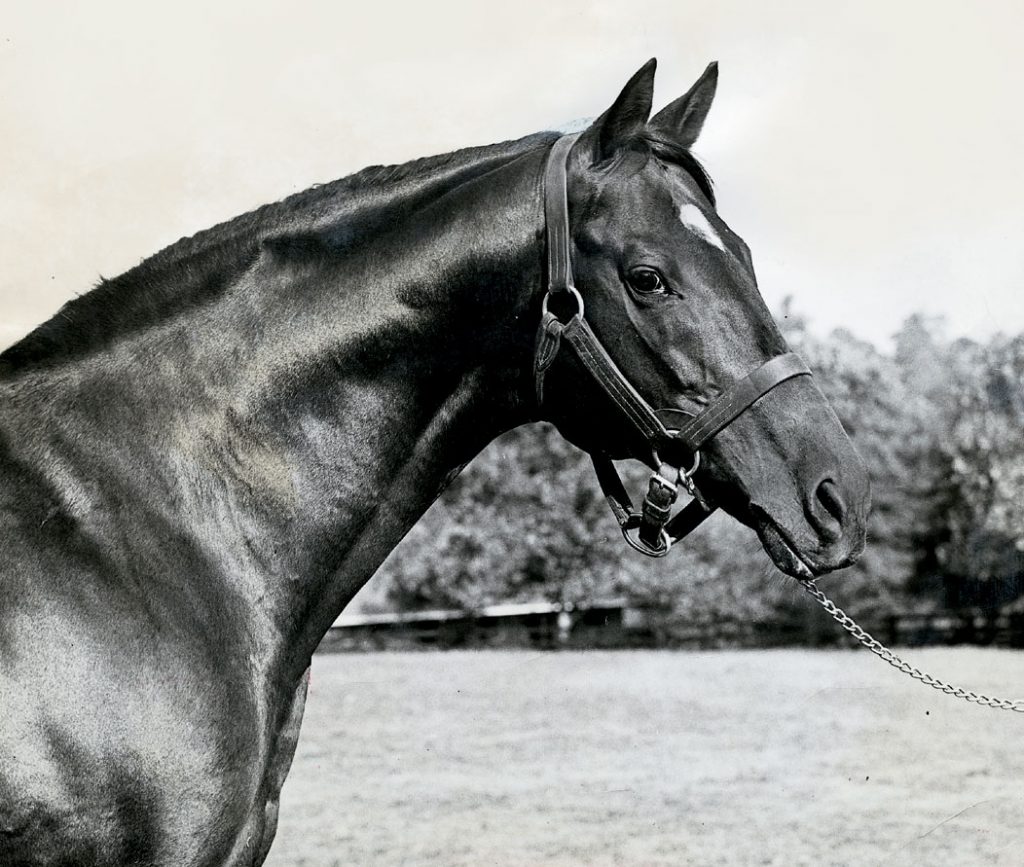 Courtesy placed in multiple stakes for Claiborne and produced a dozen foals at the farm, including multiple-stakes winners Knightly Manner and Dignitas, full brothers sired by Claiborne-bred stallion Round Table who both went on to become stallions. Also, Courtesy's foal Duplex, by Claiborne stallion Double Jay, produced 1974 Frizette Stakes (G1) winner Molly Ballantine, by Pretense.
It was Courtesy's foal Continue, also by Round Table, who would carry on her female family's success. Declared by pedigree analyst Ellen Parker as a "Reine-de-Course" or "Queen of the Turf" for her lasting impact as a broodmare, Continue produced 13 foals, with two of them (Tuerta and File) winning Grade 1 races or producing families of Grade 1 winners who were campaigned by Claiborne. Five of Continue's other foals (Yamanin, Chain, Continuation, Furling, Plane) won Grade 1 races for other owners or produced families who had Grade 1 success for other owners.
It was Continue's foal Tuerta, by Claiborne stallion Forli, who produced Claiborne's breakthrough in the Kentucky Derby. On the track Tuerta won the 1973 Long Island Handicap (G3) and 1974 Chrysanthemum Handicap (G3) for Claiborne. As a broodmare, she produced Swale, the farm's 1984 Kentucky Derby (G1) and Belmont Stakes (G1) winner, as highlighted above. Tuerta is also the ancestress of Grade 1 winners in France. She's the third dam of 2009 Total Prix de la Foret (G1) winner Varenar (Fr), by Rock of Gibraltar (Ire), and fourth dam of 2015 and 2016 Prix Royal Oak (G1) and 2017 Prix du Cadran (G1) winner Vazirabad (Fr), by Manduro (Ger).
File, by Claiborne sire Tom Rolfe, produced Forty Niner, by the farm's influential stallion Mr. Prospector. Campaigned by Claiborne, Forty Niner won the 1987 Futurity Stakes (G1) and Champagne Stakes (G1) as a juvenile to earn the Eclipse Award for Champion Two-Year-Old. Forty Niner's success continued into his sophomore campaign, winning the 1988 Haskell Invitational (G1) and Travers Stakes (G1) before retiring to stud at his home at Claiborne where he sired Coronado's Quest, another Haskell and Travers winner, and influential stallion Distorted Humor, among others.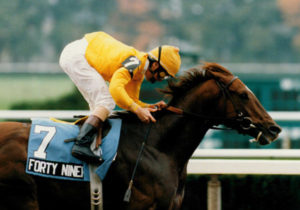 As for Continue's notable foals who were sold and had success for other owners, her son Yamanin, by Herbager was a multiple graded-stakes winner who won the 1977 Widener Handicap (G1). He was exported to stand in Japan the following year.
Chain, by Claiborne sire Herbager (Fr), is the dam of 1981 Top Flight Handicap (G1) winner Chain Bracelet, by Lyphard, and Chain Bracelet is the fourth dam of 2014 Eddie Read Stakes (G1) winner Tom's Tribute, by Lion Heart. Continuing on in this branch of the family, Chain's foal Dancing Slippers, by Claiborne stallion Nijinsky, is the second dam of 2000 Selene Stakes (G1) winner Zoftig, by Cozzenne, and third dam of her successful daughters. They include 2008 Acorn Stakes (G1) winner Zaftig, by Mr Prospector's son Gone West, and 2012 Mother Goose Stakes (G1) winner Zo Impressive, by Claiborne stallion Danzig's successful son Hard Spun.
Continuation, by Claiborne stallion Forli (Arg), is the second dam of English 1985 Two Thousand Guineas (G1) winner Shadeed, by English Triple Crown winner and Claiborne stallion Nijinsky (Can). Continuation is also the third dam of Japanese 2005 Kashiwa Kinen (G1) winner Strong Blood (Jpn), by Tokai Teio (Jpn).
Continue's foal Furling, by Claiborne stallion Hoist the Flag, is the second dam of 1993 Whitney Handicap (G1) winner Brunswick, by Claiborne stallion Private Account. He entered stud in Kentucky in 1996 and his son Private Horde won the 2003 Alfred G. Vanderbilt (G2) at Saratoga.
Plane, another one of Continue's foals by Round Table, is the third dam of Chilean 2006 Polla de Potrillos (G1) winner Bambuche (Chi), by Bacoma.
Given this Claiborne female family's success, it is no surprise to see their descendants in sales catalogs across the globe and making their way the winners' circles on the track.
Recent Success
Swale's female family, tracing back to foundation mare Highway Code (GB), continues to thrive in the U.S. and internationally.
In the U.S., 2020 Remington Park Oaks (G3) and 2020 and 2021 Falls City Stakes (G2) winner Envoutante, by Uncle Mo, is a six-year-old mare with nearly $1 million in earnings. Her second through sixth dams are Claiborne bred, from the File branch of Highway Code (GB).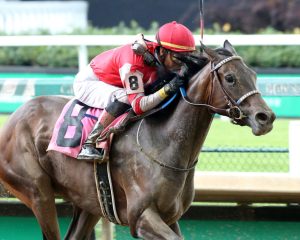 One of the most exciting fillies in Australia, Amelia's Jewel, by Siyouni (Fr), won the 2022 Northerly Stakes (G1). The three-year-old millionaire has won six of her seven career starts, with four of them graded stakes. She has Claiborne broodmares for her sixth through eight dams, from the Makeacurtsey branch of Highway Code (GB).
In Ireland, Epona Plays, by Australia (GB) won the 2020 Denny Cordell Lavarack Memorial Stakes (G3), 2020 Snow Fairy Fillies Stakes (G3), 2021 Ridgewood Pearl Stakes (G2) and 2021 Park Express Stakes (G3). Her fifth through eight dams are Claiborne-bred, also from the Makeacurtsey branch of Highway Code (GB).
While Claiborne's female family of Highway Code (GB) is responsible for producing some of the Hancock family's greatest highs and lows in homebred Kentucky Derby winner Swale, it remains an active and influential family in the U.S. and internationally nearly three-quarters of a century after Bull Hancock planned its first mating to his newly imported stallion Nasrullah (Ire).