Analysis identifies 18 top-level winners descending from Bayou, adding to the legacy of her dam, Claiborne matriarch Bourtai.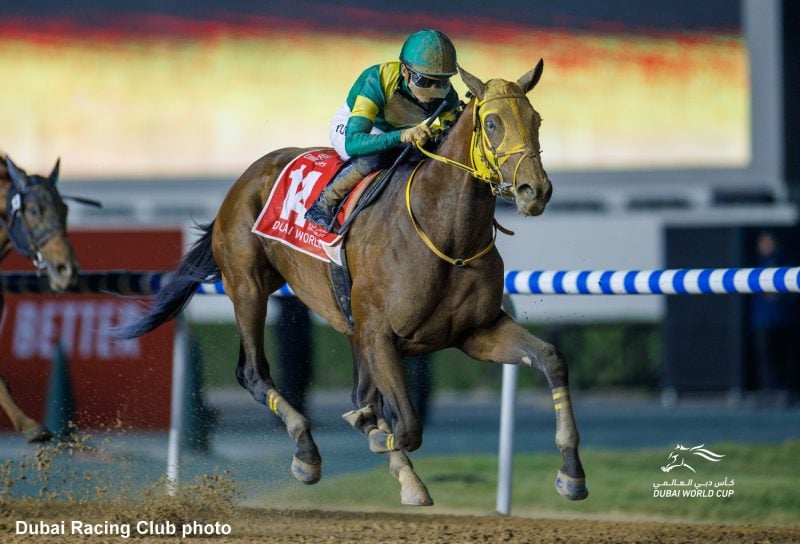 Story by B. Jason Brooks
One of the world's most elite races was won on Saturday, March 25th by a Japanese-bred horse representing the Bayou branch of the Claiborne Farm family of blue-hen mare Bourtai.  Ushba Tesoro displayed an explosive last-to-first move in the stretch to triumph in the $12 million Dubai World Cup (G1).
Ushba Tesoro's victory was his first race outside of Japan and his seventh career stakes win, boosting his career earnings to nearly $9.3 million.  As noted in Bob Kieckhefer's Blood-Horse story on the race, "Ushba Tesoro spent most of his early career on the turf, with mildly respectable results. He blossomed when, last April, [trainer Noboru] Takagi switched him to dirt courses, where he now has five wins from six starts."  His big breakthrough came on December 29th with a victory in the Tokyo Daishoten (G1) at Oi Racecourse.  His Japanese sire Orfevre, a six-time group 1 winner who earned more than $19 million, has a tail-female line which includes four Phipps-bred mares from the family of Erin, all of which were foaled at Claiborne Farm.
Coupling Ushba Tesoro's $12 million Dubai World Cup win with fellow Japanese-bred Panthalassa winning the $20 million Saudi Cup (G1) in February, Claiborne matriarch Bourtai's descendants have captured the world's two richest races in the same year, a remarkable feat.
As highlighted in the March 24th Claiborne Farm blog story "Saudi Cup Champion Panthalassa's Success Spotlights the Powerful Claiborne Family of Bourtai," Bourtai was attractive to the Hancock family because of their philosophy of breeding to successful female families rather than just focusing on the success of an individual mare.  Acquired by the farm in 1951, Bourtai became one of the greatest mares of the 20th century and her daughters Banta, Bayou, Delta, and Levee went on to produce elite families of their own.  While the recent blog story offered a timely deep dive into Bourtai's Delta branch of more than two dozen grade 1 or group 1 winners, including Saudi Cup winner Panthalassa, the recent Dubai World Cup success of Ushba Tesoro provides an opportune time to look deeply into the Bayou branch of this prolific family.
Bourtai's Bayou Branch
Bourtai's daughter Bayou, by Claiborne stallion Hill Prince, earned seven wins from 32 starts for Claiborne Farm.  In 1957, she captured U.S. champion 3-year-old filly honors after winning the Acorn Stakes, Gazelle Handicap, Delaware Oaks, and Maskette Handicap, and finishing runner-up in the Coaching Club American Oaks.  Early on in her 4-year-old campaign, she suffered an injury that forced her retirement.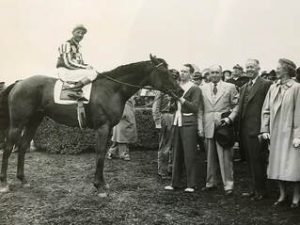 As part of the Claiborne broodmare band, Bayou produced 11 foals, with nine of them making starts and eight becoming winners.  Her only notable runner was Batteur, by Claiborne stallion Bold Ruler, a winner of six stakes races, including the 1964 and 1966 Santa Margarita Handicap and 1965 Santa Barbara Handicap.  Despite all but one having mediocre results on the track, Bayou's daughters turned out to be successful broodmares, carrying on the legacy of their important Claiborne family.
Through her daughters Pampas Miss, Alluvial, Batteur, Bayou Blue, and Slew, Bayou's branch of the family has produced a remarkable 18 grade 1 or group 1 winners, with all of these victories occurring in top-tier Part I countries or races, as classified by the International Federation of Horseracing Authorities.
The Pampas Miss/Bayou Branch
Bayou's daughter Pampas Miss, by Argentinian imported Claiborne stallion Pronto, was sent to Europe where she produced British-bred Samalex, by Irish stallion Ela-Mana-Mou, a multiple group 3-placed mare in France.  Through Samalex, Bayou is the fifth dam of the above-mentioned Japanese-bred Ushba Tesoro, winner of the 2022 Tokyo Daishoten (G1) in Japan and 2023 Dubai World Cup (G1) in the United Arab Emirates.
The Alluvial/Bayou Branch
In spite of never racing, Alluvial, by Claiborne stallion Buckpasser, was a successful Claiborne broodmare, producing a Hall of Famer and a classic winner.  Her descendants include seven grade 1 or group 1 winners.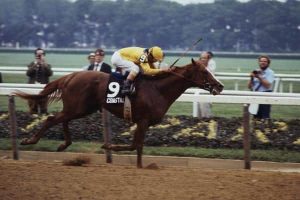 Through Alluvial, Bayou is the granddam of Claiborne co-bred Coastal, by Majestic Prince, winner the 1979 Belmont Stakes (G1).  After Keeneland denied him entry into the 1977 yearling sale based on his inferior confirmation, his co-breeder William Haggin Perry bough out Claiborne's share of him.  Entering the Belmont Stakes fresh after only three starts in his 3-year-old campaign and as a supplemental entry, the Dave Whiteley-trailed colt defeated future Claiborne stallion Spectacular Bid, denying him of the Triple Crown.  Counting the Belmont, he won four graded stakes races in his career, including the 1979 Monmouth Invitational Handicap (G1), and did so with a vision issue that limited his sign in his right eye.  He went on to stand at Claiborne and sired 19 stakes winners.
Coastal's half-brother Slew o' Gold, by Seattle Slew, was co-bred as part of a foal-sharing arrangement between Claiborne and Equusequity Stable, the partnership of Mickey and Karen Taylor and Jim and Susan Hill who owned his Triple Crown-winning sire.  Slew o' Gold won a dozen races from 21 starts, with seven grade 1 victories, including the 1983 Wood Memorial (G1), 1983 and 1984 Woodward Stakes (G1), 1983 and 1984 Jockey Club Gold Cup (G1), 1984 Whitney Handicap (G1) and the 1984 Marlboro Cup Invitational Handicap (G1).  Adding runner-up honors in the classic 1983 Belmont Stakes (G1) and 1983 Travers Stakes, he won the U.S. awards for 1983 champion 3-year-old male and 1984 champion older male.  He retired with $3.5 million in earnings and entered stud in 1985 at Three Chimneys Farm in Kentucky where he sired 17 crops, including 28 stakes winners, 12 of which were graded or group winners.  His grade 1 winners include Awe Inspiring, Dramatic Gold, Gorgeous, Tactile, and Thirty Six Red.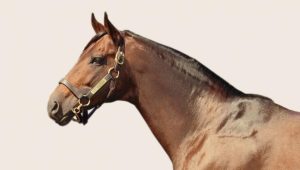 Alluvial's daughter Dokki, by Canadian stallion Northern Dancer, produced two grade 1 winners for Juddmonte Farms, making Bayou their third dam.  Dokki's foal Aptitude, by A.P. Indy, placed in the 2000 Kentucky Derby (G1) and Belmont Stakes (G1), and earned victories as a 4-year-old in the 2001 Hollywood Gold Cup (G1) and Jockey Club Gold Cup (G1).  Dokki's daughter Sleep Easy, by Seattle Slew, won two graded stakes races, including the 1995 Hollywood Oaks (G1).  Twenty years later, Sleep Easy's British-bred granddaughter Slumber, by Irish stallion Cacique, won the 2015 Manhattan Stakes (G1), making Bayou her sixth dam.
Through Alluvial's daughter Northabout, by Northern Dancer, Bayou is the fourth dam of Florida-bred Tunelero, by Timeless Native, a champion grass horse in Peru in 1998, 1999, and 2001.  He won six graded stakes races in Peru, including the 1998 Gran Premio Nacional Augusto B. Leguia (G1).  Also through Northabout, Bayou is the fifth dam of Pennsylvania-bred Real Solution, by Kitten's Joy, a dual grade 1 winner for his breeders and owners Kenneth and Sarah Ramsey.  After making five starts in Rome, Italy, he found stakes success back home in the U.S., winning the 2013 Arlington Million (G1) and 2014 Manhattan Handicap (G1).
The Batteur/Bayou Branch
As noted above, Batteur, by Claiborne stallion Bold Ruler, was the most successful runner of Bayou's foals, winning three important stakes races from 1964 to 1966.  As a broodmare, her Claiborne-bred son Flag Officer, by Claiborne stallion Hoist the Flag, was her only stakes winner, taking the 1977 Illinois Derby (G3).  Batteur is the ancestress of two grade 1 or group 1 winners.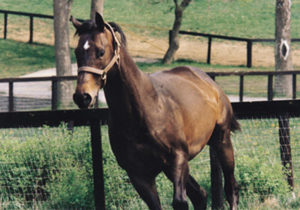 Through Batteur's daughter Flail, by Claiborne stallion Bagdad, Bayou is the fourth dam of Anifa, by Claiborne's imported French stallion Herbager.  Kentucky-bred Anifa raced in France at the ages of 3 and 4, finishing runner up in the significant Prix Royal-Oak (G1) at Longchamp and winning two group stakes races.  Following a grade 3 win at Longchamp, she returned to the U.S., winning the 1980 Turf Classic (G1) at Aqueduct in her first domestic start.  Flail's half-sister Depth, by Claiborne stallion Buckpasser, is the great-granddam of Japanese-bred Erimo Chic, by Dancing Brave, making Bayou her fifth dam.  She won the 1997 Queen Elizabeth II Cup (G1) and placed in the 1996 Shuka Sho (G1), both in Japan.
The Bayou Blue/Bayou Branch
Bayou's daughter Bayou Blue, by Claiborne stallion Bold Ruler, won one race from three starts.  Her most successful foal was Harbor Flag, by Claiborne stallion Hoist the Flag, a fourth-place finisher in the 1980 Sorority Stakes (G3) at Monmouth.  Four of her descendants are grade 1 winners.
Through Harbor Flag, Bayou is the fourth dam of Oath, by Known Fact, winner of the 1996 Spinaway Stakes (G1), and her half-brother War Pass, by Cherokee Run, the 2007 champion juvenile 2-year-old colt and winner of the Champagne Stakes (G1) and Breeders' Cup Juvenile (G1) that year.  War Pass stood at Lane's End for only two seasons before an untimely death at the age of 5 and sired 2013 Blue Grass Stakes (G1) winner Java's War for his breeder and owner Charles Fipke.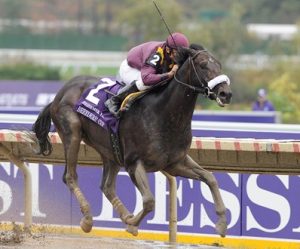 Continuing down through Bayou Blue and her daughter Harbor Flag, Bayou is the fifth dam of 2015 Maker's 46 Mile Stakes (G1) winner Jack Milton, by Claiborne stallion War Front.  He entered stud duties in the U.S. in 2016 and has sired three stakes winners, including 2020 Belmont Futurity Stakes (G3) winner Second of July.  Bayou is also the fifth dam of 2012 Ashland Stakes (G1) winner Karlovy Vary, by Dynaformer, a homebred for Alex G. Campbell, Jr.  As a broodmare, she has produced 2020 and 2021 graded stakes winners Mean Mary, by Scat Daddy, and Bye Bye Melvin, by Uncle Mo.
The Slew/Bayou Branch
Bayou's daughter Slew, by Claiborne stallion Bold Ruler, produced two stakes winners and is the ancestress of four grade 1 or group 1 winners.  Her daughter Slews Exceller, by Exceller, lived up to her name by winning the 1987 Flower Bowl Handicap (G1).  Through Slew's daughter Thoughtful Lady, Bayou is the fifth dam grade-1 winning siblings: 1994 Hollywood Derby (G1) winner River Flyer, by Riverman, and 2001 Test Stakes (G1) winner Victory Ride, by Claiborne stallion Seeking the Gold.  Through this line, Bayou is also the seventh dam of Brazilian-bred Mais Que Bonita, by Japanese stallion Agnes Gold, winner of Brazil's 2020 Henrique Possolo (G1) and Diana (G1).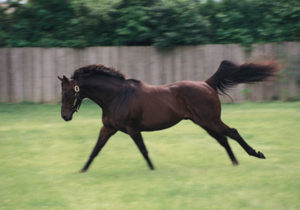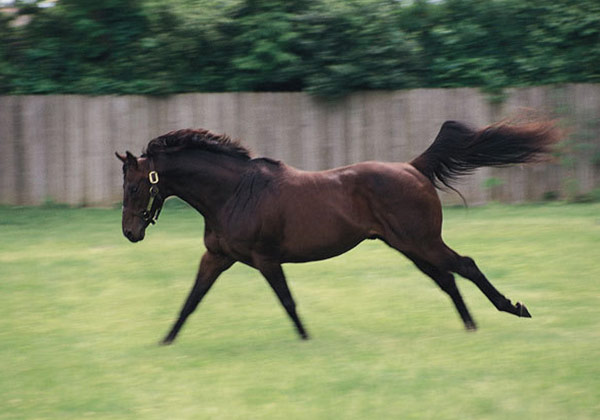 As the recent analyses show, between her daughters Delta and Bayou, Bourtai is the ancestress of more than 40 grade 1 or group 1 winners.  While we do not have similar recent analyses of Bourtai's Banta and Levee branches, they too are recognized for producing a substantial number of elite winners, making Bourtai the ancestress of dozens of top-level winners across the world.  The Dubai World Cup and Saudi Cup wins may be a sign of more things to come for this important Claiborne family in 2023.