Fifty-nine yearlings from the first crop of classic winner and dual-surface Grade 1 winner WAR OF WILL are cataloged for this month's Keeneland September Yearling Sale from September 11 – 23.
The stallion's Hip 2588 saw a major update on the final day of the Saratoga meet when his RUNHAPPY half-brother Nutella Fella won the Hopeful Stakes (G1).
It was the second win in two starts for that runner, who had won a Delaware Park Maiden Special Weight on debut. Nutella Fella is one of two winners from two to race out of the Candy Ride mare Krissy's Candy, who also produced four-time winner We All See It. The Hopeful victory made Krissy's Candy a fifth-generation stakes winner, with her own dam producing the stakes winning Meal Penalty. Third dam Dreamscape produced two stakes winners herself with multiple daughters also producing stakes performers.
The first yearling to go through the ring at the sale by the stallion is Hip 176, offered by breeder Dixiana Farms.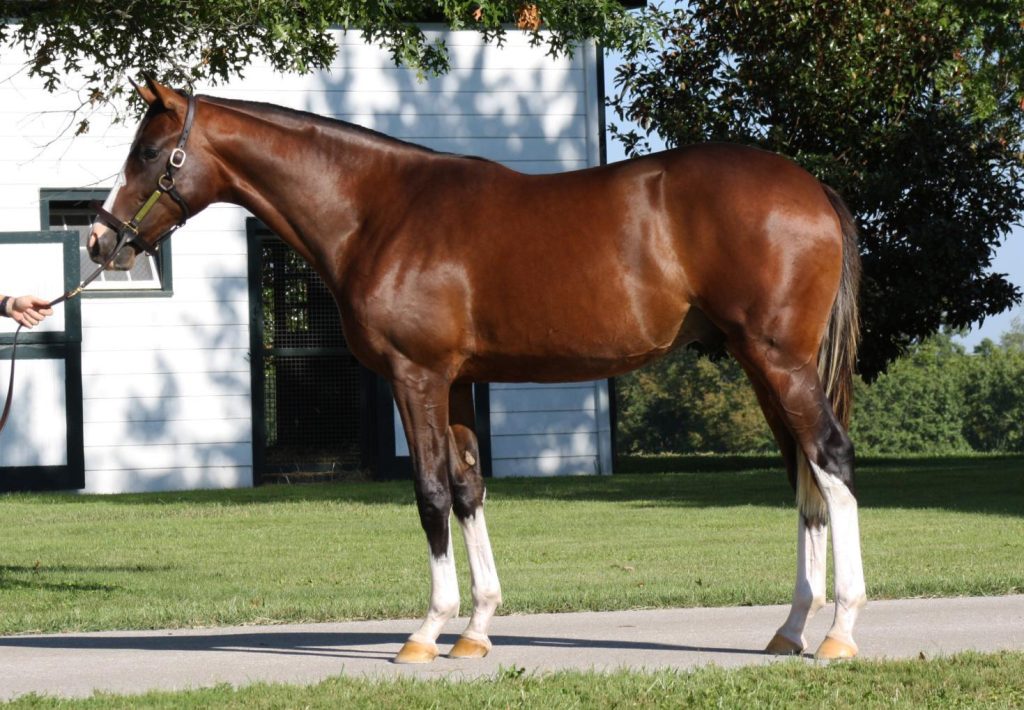 The colt is out of the stakes winning Julia Tuttle, whose four winners include Grade 1 winner Tom's d'Etat and the dam of the stakes placed El Tizar. Julia Tuttle is one of three stakes performers out of Candy Cane, who is a full sister to multiple Grade 1 winner and successful sire Candy Ride.
Hip 446 consigned by Crestwood Farm is a half-brother to Grade 3 winners Polar River and Down on Da Bayou and the Grade 3-placed Rare Form from the four winners out of winning Empire Maker mare Bayou Tortuga.
Bred by McCann Bloodstock, Mark Kelder, and EDR Equine, the two dams on this colt's page have produced five stakes winners between them with three of them winning multiple stakes races. Included in that group is the 16-time winner Tortuga Flats, who includes six stakes victories among that number, and 14-time winner Tortuga Straits, who won seven stakes.
A three-quarter brother to WAR FRONT's multiple stakes winning Compelled sells with breeder Glen Hill Farm as Hip 1380.
Out of the stakes placed Mutually Benefit, the colt is also a half-brother to the stakes placed Grace Period with his dam producing three winners from four to race. This colt's second dam is the Group 1 winner and successful broodmare Macoumba.
That mare produced top sire Malibu Moon and two stakes performers with her daughters also successful producers. One of those produced Grade 3 winner and Grade 1 placed Temple City, who has been a successful sire as well, while another daughter produced Grade 3 winner Worth Repeating.
Mutually Benefit returned to WAR OF WILL's sire WAR FRONT this year.
Produced by a half-sister to Kentucky Oaks (G1) winner Lemons Forever, Hip 1661 is offered by breeder Farfellow Farms. The colt's dam Critikal Reason had her own successful both on the track and in the breeding shed as a stakes-placed racehorse and as the dam of stakes winner and Grade 1-placed Bajan and Grade 3-placed Virtual Machine.
Lemons Forever was also a top producer as the dam of champion Forever Unbridled and Grade 1 winner Unbridled Forever in addition to Forever d'Oro. This colt's granddam was a Group 2 winner herself who was placed in multiple Grade 1 races.
A stakes winning daughter of Speightstown is the dam of Indian Creek-offered Hip 1898, bred by William Thompson Jr.
In addition to being a stakes winner, Shot Gun Pennie is also the dam of the stakes winning WhatwasIthinking and the Grade 3-placed Guileful. The colt's granddam is the multiple stakes winning Shot Gun Favorite, who is one of four stakes performers out of Shot Gun Frances. Shot Gun Frances is also the granddam of champion Green Money and stakes-placed Bull Account.
Hip 1980 saw an update a week before the sale began when the colt's half-brother Battle of Normandy finished third in the Dueling Grounds Derby (G3) at Kentucky Downs.
Consigned by co-breeder Lane's End, who bred him with Gage Hill Stables, the colt is out of the multiple stakes winner Adorable Miss. He is also a half-brother to the stakes-placed Veronica Greene. Adorable Miss herself is one of two stakes winners out of Money Huntress as a half-sister to the Grade 3 winning Noble Beauty with the colt's third dam being the Grade 1 winner Favorite Funtime. Three of the four dams on this page are stakes winners with all four of them producing at least one stakes performer.
The fourth foal out of Golden Finale saw a big update when champion Elite Power won the Alfred G. Vanderbilt (G1) before finishing second in the Forego Stakes (G1). Bred by Sea Horse Breeders and offered as Hip 2122 by Greenfield Farms, the colt's dam is a half-sister to Grade 2 winner and Grade 1-placed Broadway's Alibi.
That mare is the dam of the aforementioned dual Grade 1 winner Elite Power with Golden Finale also a half-sister to multiple Grade 3 winner Golden Lad and multiple stakes winner and Grade 1-placed R Gypsy Gold. Golden Finale is also a half-sister to the dam of the stakes winning Lights of Broadway. This is a successful family throughout the generations with the yearling's stakes winning granddam Broadway Gold a half-sister to Grade 1 winner Dialed In and to the dam of stakes winner Empire House. The colt's dam has also been a successful broodmare with her one winner from two to run a two-time winner.
A half-sister to dual Grade 1 winner Cave Rock is the dam of Bedouin Bloodstock's Hip 2267. This is the second foal out of the winning Rue de l'Ange, who saw this colt sell for $140,000 at Fasig-Tipton November last year. Rue de l'Ange's dam is the Grade 3 winner Georgie's Angel, who is also a half-sister to Grade 3 winner Lawn Ranger.
Each of the three dams on this page with racing age foals have at least one stakes winner with his third and fourth dams both producing two stakes winners and at least one stakes producer.
Vinery Sales is the consignor of Hip 2462, a filly out of Brazilian champion and multiple Group 1 winner Colina Verde.
That mare has produced four winners as a broodmare with those including another Grade 1 winner in Greenzapper and the multiple graded stakes placed Limonite. The mare's daughters have also produced stakes performers themselves with one producing the stakes winning Commitment and another the multiple Grade 3-placed Malibu Mambo.
Colina Verde's produce record takes up most of the page but the filly's stakes winning granddam not only is a full sister to Grade 1 winner Subaru Purple but also has the Grade 1-placed Fleur Delacour listed among her runners.
A colt out of Dynaformer's Alpha Centauri is Hip 3628 offered by Hunter Valley Farm. Bred by Nimet Kurtel Kurtel the colt's four winning siblings include the stakes placed Reversethedecision.
Alpha Centauri is a half-sister to the multiple Group 2-placed Bodes Galaxy and to Arabian Song. A winning Forestry mare, Arabian Song is the dam of multiple Grade 1 winner Country Grammer and stakes winner Joyful Cadence from her own four winners. There are stakes performers under all three dams on the page with two of them either producing Grade 1 winners of the dam of a Grade 1 winner.
His third dam Willstar not only produced the Grade 1 winner Etoile Montante but also the stakes winning dam of Grade 1 winner Obligatory.
WAR OF WILL's first yearlings have sold for $650,000, $380,000, $320,000, etc. with a $201,263 average from 11 purchased this yearling sales season.
| Hip | Dam | Broodmare Sire | DOB | Foaled | Consignor | Barn |
| --- | --- | --- | --- | --- | --- | --- |
| 176 | Julia Tuttle | Giant's Causeway | 4/13/2022 | KY | Dixiana Farms | 19 |
| 330 | Spank | Blame | 3/15/2022 | KY | Claiborne Farm, Agt | 6 |
| 446 | Bayou Tortuga | Empire Maker | 2/19/2022 | KY | Pope McLean (Crestwood Farm), Agt | 27 |
| 592 | La Song | Unbridled's Song | 2/28/2022 | KY | Taylor Made Sales Agency, Agt | 32 |
| 731 | Stormbeforethecalm | Quiet American | 4/28/2022 | FL | Summerfield (Francis and Barbara Vanlangendonck), Agt | 34 |
| 844 | Curls in Place | Curlin | 4/4/2022 | KY | Vinery Sales, Agt for Milestone Farm | 46 |
| 882 | Full of Zip | City Zip | 4/14/2022 | KY | Paramount Sales, Agt | 43 |
| 1143 | Abatis | Aptitude | 4/11/2022 | KY | Bluewater Sales LLC, Agt | 8 |
| 1274 | Heels | Flatter | 3/5/2022 | KY | Claiborne Farm, Agt | 6 |
| 1380 | Mutually Benefit | Dynaformer | 3/20/2022 | KY | Glen Hill Farm | 1 |
| 1401 | Perfect Step (IRE) | Iffraaj (GB) | 5/14/2022 | KY | Garrencasey Sales LLC, Agt | 9 |
| 1424 | Ready Signal | More Than Ready | 3/29/2022 | KY | Castle Park Farm LLC (Noel Murphy), Agt | 12 |
| 1577 | Amen Hallelujah | Montbrook | 3/13/2022 | KY | Vinery Sales, Agt | 24 |
| 1661 | Critikal Reason | Aptitude | 5/3/2022 | KY | Farfellow Farms | 24 |
| 1692 | Eyeinthesky | Sky Mesa | 2/16/2022 | KY | War Horse Place LLC, Agt | 14 |
| 1720 | Glowing Sunset | Street Sense | 4/2/2022 | ON | Mulholland Springs, Agt | 22 |
| 1723 | Green Destiny | Super Saver | 3/20/2022 | KY | Vinery Sales, Agt | 24 |
| 1754 | Keira | Unusual Heat | 3/24/2022 | KY | Mill Ridge Sales, Agt | 12 |
| 1805 | More Fun Again | Arch | 2/10/2022 | KY | St George Sales, Agt | 26 |
| 1883 | Scattering Mink | Scat Daddy | 4/8/2022 | KY | Paramount Sales, Agt | 19 |
| 1898 | Shot Gun Pennie | Speightstown | 3/5/2022 | KY | Indian Creek, Agt | 28 |
| 1931 | Sunday Sonnet | Any Given Saturday | 5/7/2022 | KY | Hermitage Farm | 27 |
| 1939 | Tenacious Tina | Benchmark | 4/3/2022 | KY | Mulholland Springs, Agt | 22 |
| 1980 | Adorable Miss | Kitten's Joy | 4/17/2022 | KY | Lane's End, Agt | 30 |
| 2033 | Bunairgead (IRE) | New Approach (IRE) | 4/26/2022 | KY | Gainesway, Agt | 31 |
| 2048 | Chastise | Blame | 2/25/2022 | KY | Claiborne Farm, Agt | 28 |
| 2093 | Escampette | Smart Strike | 3/7/2022 | KY | Dixiana Farms | 32 |
| 2122 | Golden Finale | Arch | 2/25/2022 | KY | Greenfield Farms, Agt | 29 |
| 2151 | Joyful Cat | Kitten's Joy | 2/27/2022 | KY | Hill 'n' Dale at Xalapa, Agt | 38 |
| 2154 | Just a Little Hope | Flatter | 3/21/2022 | KY | Trackside Farm (Tom Evans), Agt | 32 |
| 2199 | Mermaid of Honor | Majestic Warrior | 3/16/2022 | KY | Lane's End, Agt | 30 |
| 2232 | Not Swayed | Honor Code | 4/14/2022 | KY | Nursery Place, Agt | 37 |
| 2267 | Rue de l'Ange | Street Sense | 4/8/2022 | KY | Bedouin Bloodstock, Agt | 40 |
| 2272 | Sandal | Munnings | 1/29/2022 | KY | Hunter Valley Farm, Agt | 39 |
| 2372 | Underestimate | Broken Vow | 2/28/2022 | KY | Claiborne Farm, Agt | 28 |
| 2377 | Virginia Hill | Sky Mesa | 3/29/2022 | KY | Eaton Sales, Agt | 36 |
| 2462 | Colina Verde (BRZ) | Know Heights (IRE) | 2/13/2022 | KY | Vinery Sales, Agt | 2 |
| 2479 | Curled | Curlin | 3/6/2022 | KY | Stone Farm, Agt | 47 |
| 2491 | Dido | Bernstein | 4/1/2022 | KY | Brookdale Sales, Agt for Jack Swain | 43 |
| 2499 | East India | Mizzen Mast | 5/21/2022 | KY | Knockgriffin Farm, Agt | 41 |
| 2508 | Exit Three | Giant's Causeway | 4/5/2022 | KY | Indian Creek, Agt | 45 |
| 2546 | Harmony Victory | More Than Ready | 2/8/2022 | KY | Mill Ridge Sales, Agt | 3 |
| 2553 | Hi Holiday | Harlan's Holiday | 3/14/2022 | KY | Warrendale Sales, Agt | 47 |
| 2588 | Krissy's Candy | Candy Ride (ARG) | 4/25/2022 | KY | Ashview Farm, Agt | 47 |
| 2624 | Miss Matzoball | Smoke Glacken | 3/29/2022 | LA | Indian Creek, Agt for Coteau Grove Farms | 45 |
| 2702 | Ruffenuff | Dialed In | 2/10/2022 | KY | Grovendale Sales, Agt | 48 |
| 2927 | Excessivespending | Shackleford | 2/1/2022 | KY | Bedouin Bloodstock, Agt | 9 |
| 2950 | Gone to Town | Munnings | 2/16/2022 | KY | Nursery Place, Agt | 7 |
| 3012 | Lucy in Diamonds | Rock Hard Ten | 4/24/2022 | KY | Stonehaven Steadings | 12 |
| 3147 | Stunning Lady | Indian Charlie | 4/29/2022 | KY | Eaton Sales, Agt | 12 |
| 3400 | Jade Princess | Tapit | 4/30/2022 | KY | Brookdale Sales, Agt | 29 |
| 3414 | Kyllachy Queen (IRE) | Kyllachy (GB) | 3/11/2022 | KY | Paramount Sales, Agt | 19 |
| 3528 | Rumble Doll | Street Boss | 3/11/2022 | NY | Four Star Sales, Agt | 27 |
| 3580 | Sweet Candy Dance | Twirling Candy | 4/25/2022 | KY | Paramount Sales, Agt | 19 |
| 3628 | Alpha Centauri | Dynaformer | 4/21/2022 | KY | Hunter Valley Farm, Agt | 39 |
| 3671 | Crown It | Tapit | 4/30/2022 | KY | Pope McLean (Crestwood Farm), Agt | 37 |
| 3947 | Aqua Regia | Pollard's Vision | 4/20/2022 | VA | Knockgriffin Farm, Agt | 44 |
| 4022 | Giovanna Blues | Gio Ponti | 3/30/2022 | FL | Four Star Sales, Agt for Westbury Stables | 42 |
| 4118 | Parol | Mizzen Mast | 3/5/2022 | NY | Mulholland Springs, Agt | 43 |