What do you get when you combine a successful dirt sireline that has strong roots in the Claiborne stallion barn and a stallion with one of the best families in the world? A promising young sire like DEMARCHELIER (GB),who looks to continue the success of Claiborne's Seeking The Gold and Mr. Prospector in coming years.
At first glance, it is easy to see why it is thought that DEMARCHELIER (GB)'s best progeny will come on turf – the stallion is a Grade 3 winner on the surface and comes from a strong turf family. But a closer look reveals that DEMARCHELIER (GB)'s sireline has more than enough dirt influence for the young stallion to make an impact on that surface.
"There really isn't any reason that he couldn't be a dirt sire," Bernie Sams told Thoroughbred Daily News. "Dubawi (Ire) is by Dubai Millennium (GB), who is by Seeking the Gold. Seeking the Gold stood here at Claiborne and was a tremendous dirt sire as well as a turf sire."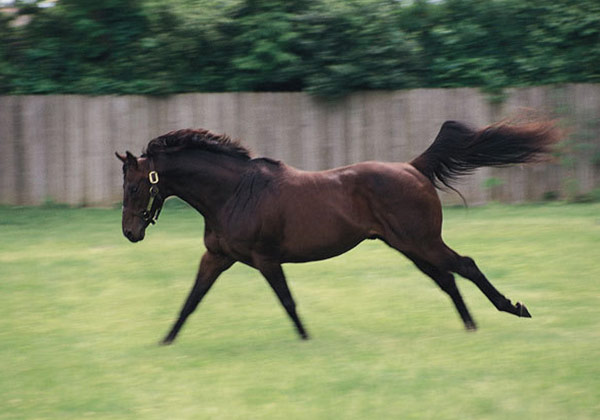 DEMARCHELIER (GB)'s sire Dubawi (Ire) has turned into one of the best dual-surface sires in the world with his runners registering major successes in multiple countries on dirt in the past decade.
DEMARCHELIER (GB)'s Sireline Strikes Again in Dubai
This season has seen more of that success for Dubawi (Ire)'s runners on the dirt at Meydan in Dubai, kicked off by Military Law (GB). Already Group 1-placed on the dirt at Meydan last season, Military Law won the Al Maktoum Challenge R1 (G2) in January. Running in the Dubai World Cup (G1), he is far from the only Dubawi (Ire) son to win on the dirt in the three-round Challenge over the years.
Four of Dubawi (Ire)'s Group 1 winners have visited the winner's circle in at least one round of the challenge. That group is led by his Dubai World Cup (G1) Prince Bishop (Ire) taking out the Al Maktoum Challenge R3 (G1) the year before winning the 2015 Dubai World Cup (G1) over California Chrome. He was joined in Round 3 success on the traditional dirt surface by North America (GB) in 2018.
Meanwhile, Dubawi (GB)'s top son Benbatl (GB) was the winner of last year's Al Maktoum Challenge R2 (G2). That accomplished horse went on to finish third in front of horses such as U.S. Grade 1 winners Mucho Gusto, McKinzie, and multiple Grade 1-placed Tacitus in the Saudi Cup.
On the biggest night of the year in Dubai, Prince Bishop (Ire) hasn't been the only major dirt winner for Dubawi (Ire). The same year Prince Bishop (Ire) won his Dubai World Cup, Mubtaahij (Ire) won the UAE Derby (G2) by eight lengths. He would make multiple trips back to Dubai in coming years, finishing second and third in the Dubai World Cup (G1). Moved to Bob Baffert during the last two years of his career, Mubtaahij won the Awesome Again (G1) and was multiple Grade 1-placed on the surface in the U.S. as well.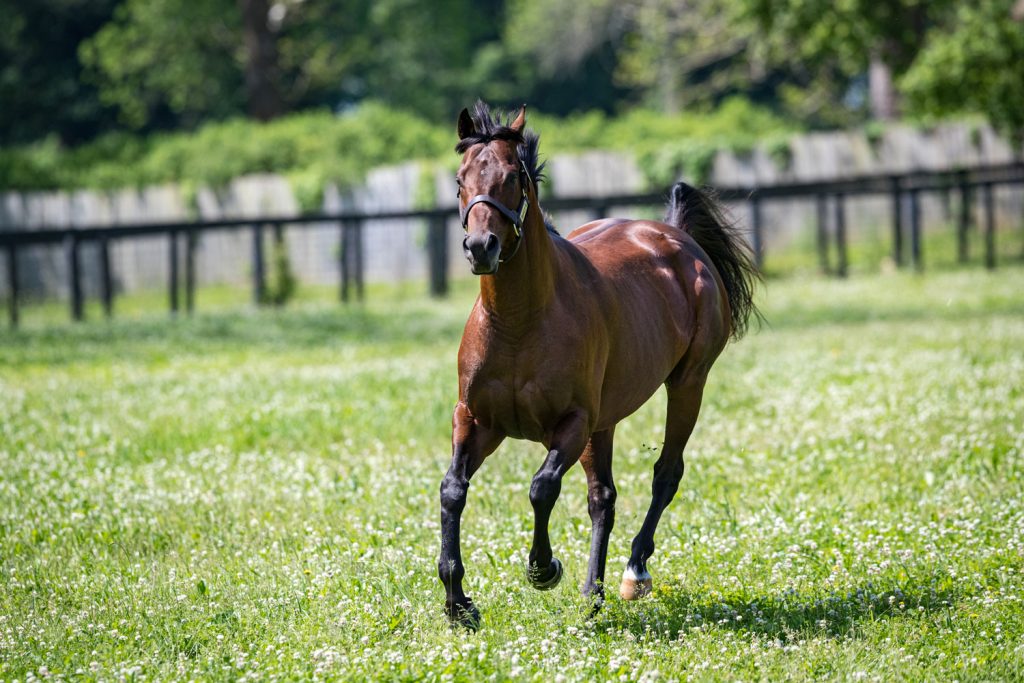 Going back to this year, DEMARCHELIER (GB)'s sire has seen six of his Meydan runners win stakes in 2021.
Other than Military Law (Ire), that group includes a trio of 3-year-olds who have all proven to have talent on the surface. Dubawi (Ire)'s G2 UAE Derby winner Rebel Romance (Ire) earned his way in the G1 Kentucky Derby with that victory one start after running in the Saudi Derby, where he finished in fourth half a length in front of Dubawi's (Ire) seven length Listed UAE 1000 Guineas winner Soft Whisper (Ire). That pair has been joined on the Dubai classic trail this Carnival season by UAE 2000 Guineas (G3) third Navel Crown (Ire) – who finished behind FLATTER'S own Mouheeb.
Even though Dubawi (Ire) never got his chance to run on dirt, he gets the talent on the surface honestly.
He is from the only crop of Seeking The Gold's Dubai Millennium (GB), who was a six length winner of the 2000 Dubai World Cup (G1) on dirt. The sire of seven stakes horses from 35 runners in his only crop, Dubai Millennium (GB)'s success on the dirt has been passed on through the generations with both Dubawi (Ire)'s sons and grandsons siring stakes performers on the surface.
The most well-known dirt runner of those hailing from Dubawi (Ire)'s sons or grandsons is likely this year's Saudi Cup winner Mishriff (Ire), who beat horses considered some of the best in the United States in the race. Also finishing second in last year's Saudi Derby, he is by Dubawi (Ire) grandson Make Believe (GB).
Mishriff's second last year came a month after Dubawi (Ire)'s sensational son Night Of Thunder (Ire) saw Dubai Love (GB) win the Listed UAE 1000 Guineas by an easy 3 ¼ lengths as one of just nine Night Of Thunder (Ire) runners on dirt. The filly went on to finish second in the UAE Oaks (G3) during the carnival and was third against the colts in the Listed Al Bastakiya to end her 3-year-old season.
Night Of Thunder (Ire) isn't the only Dubawi (Ire) son whose runners are finding stakes success on the dirt from limited opportunities, however.
In just a few examples, the late Dubawi (Ire) son Poet's Voice (GB) registered a dirt stakes winner when Montsarrat (Ire) won the Listed Jebel Ali Stakes by an eased down six lengths in 2018. Make Believe (GB)'s sire Makfi (GB) saw his son Nordic Defense (Fr) finish second in a Listed dirt race at Meydan weeks after Montsarrat (Ire) won his own race.
While his sireline should be more than enough to give DEMARCHELIER (GB)'s runners a chance to excel on dirt, his damsire Sadler's Wells may help the talent along as well.
Sadler's Wells' successful grandsons include top U.S. sire Medaglia d'Oro, a multiple Grade 1 winner and Grade 1 sire; Singspiel (Ire), the sire of Dubai World Cup winner Moon Ballad (Ire); Noble Mission (GB), the sire of dirt dual-Grade 1 winner Code of Honor; and the recently retired Clark Handicap (G1) winner Seeking The Soul.
DEMARCHELIER (GB)'s first crop is arriving now and they are receiving rave reviews. After a successful first season that saw him breed over 100 mares in 2020, DEMARCHELIER (GB) again stands for $5,000 in 2021.