For BLAME, producing quality runners crop after crop is par for the course and this year's 3-year-old crop is no exception with horses both by the stallion and out of his daughters entered in the Kentucky Derby (G1) and Kentucky Oaks (G1).
BLAME's daughter Wet Paint is undefeated in 2023 and earned well-deserved favoritism in the Kentucky Oaks (G1) with 60 more points than the next filly on the Road to the Kentucky Oaks board. The stallion is also the broodmare sire of dual stakes winner and Oaks runner Botanical, who will break from one gate inside Wet Paint.
BLAME is also the broodmare sire of Kentucky Derby (G1) runner Forte, who comes into the race with four career Grade 1 victories.
The Road to the Kentucky Derby was a fruitful one for BLAME runners as well.
Born the year BLAME's undefeated son Nadal lit up the Kentucky Derby trail with a romp in the Arkansas Derby (G1), Derby contender Litigate did the same on February 11 with a 1 ¼ length win in the Sam F. Davis Stakes (G3).
It isn't a surprise to see Litigate do well, he's been a standout from the first time he was shown in public with Centennial Farms going to $370,000 to buy him from Nursery Place at the 2021 Keeneland September Yearling Sale.
"When he went through the ring was just an outstanding individual," co-breeder Happy Broadbent told Thoroughbred Daily News. "We've been watching him since; weren't quite sure at first, but then all of a sudden he started firing bullet works. We knew he was in great hands, with Centennial and Todd Pletcher, so we were hoping that something like this was going to happen. Because it's the kind of pedigree we liked to see in the olden days, blue blood all the way. And it just screams distance. He should run all day long."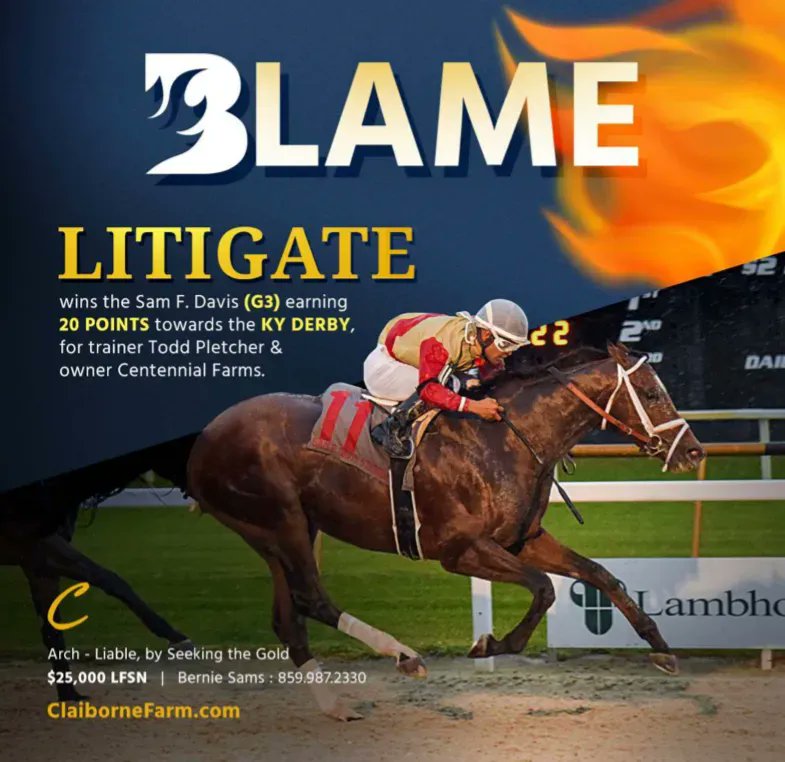 Litigate was only one horse on the Kentucky Derby trail whose genes trace back to BLAME with the stallion also the broodmare sire of last year's Claiborne Breeders' Futurity (G1) runner-up Loggins – who was just a neck behind Forte in that race.
"John [Mayer] told me Saturday night that the mare's starting to bag up now and probably about 10 days away from foaling a full-brother or sister to Litigate, so fingers crossed," Broadbent told TDN of Litigate's dam, who is carrying a full sibling to the 3-year-old, after the win. "John has always loved BLAME since day one, and we've had some luck with his babies before. He was a hard-knocking racehorse, and an underrated stallion in my opinion."
Read more about Litigate and his connections in the Thoroughbred Daily News article here.