1964 French Derby winner and Champion 3-year-old *Le Fabuleux won 8 of 11 career starts and was twice second-highweight on the French Free Handicap. In addition to his classic success, *Le Fabuleux won the Criterium de Saint-Cloud-G2, Prix Lupin-G2, Prix du Prince d'Orange-G2, Prix Noailles-G2, and Prix de Conde-G3. He entered stud in 1966 in France where he was among that nation's leading sires for several seasons beginning in 1970. He was imported by A. B. (Bull) Hancock Jr. for the 1972 season and was reportedly syndicated into 32 shares at $65,000 each.
Certainly there are many meaningful patterns in all of the pedigrees of stallions stood and families collected by Hancock over the years. One example is his keenness for the blood of St. Simon. *Nasrullah and Round Table were inbred to St. Simon; *Princequillo and *Le Fabuleux were St. Simon line sires. Thus, collecting compatible breeding stock and planning for the long-term benefit of the breed paid handsome dividends for Hancock and for Claiborne's clients.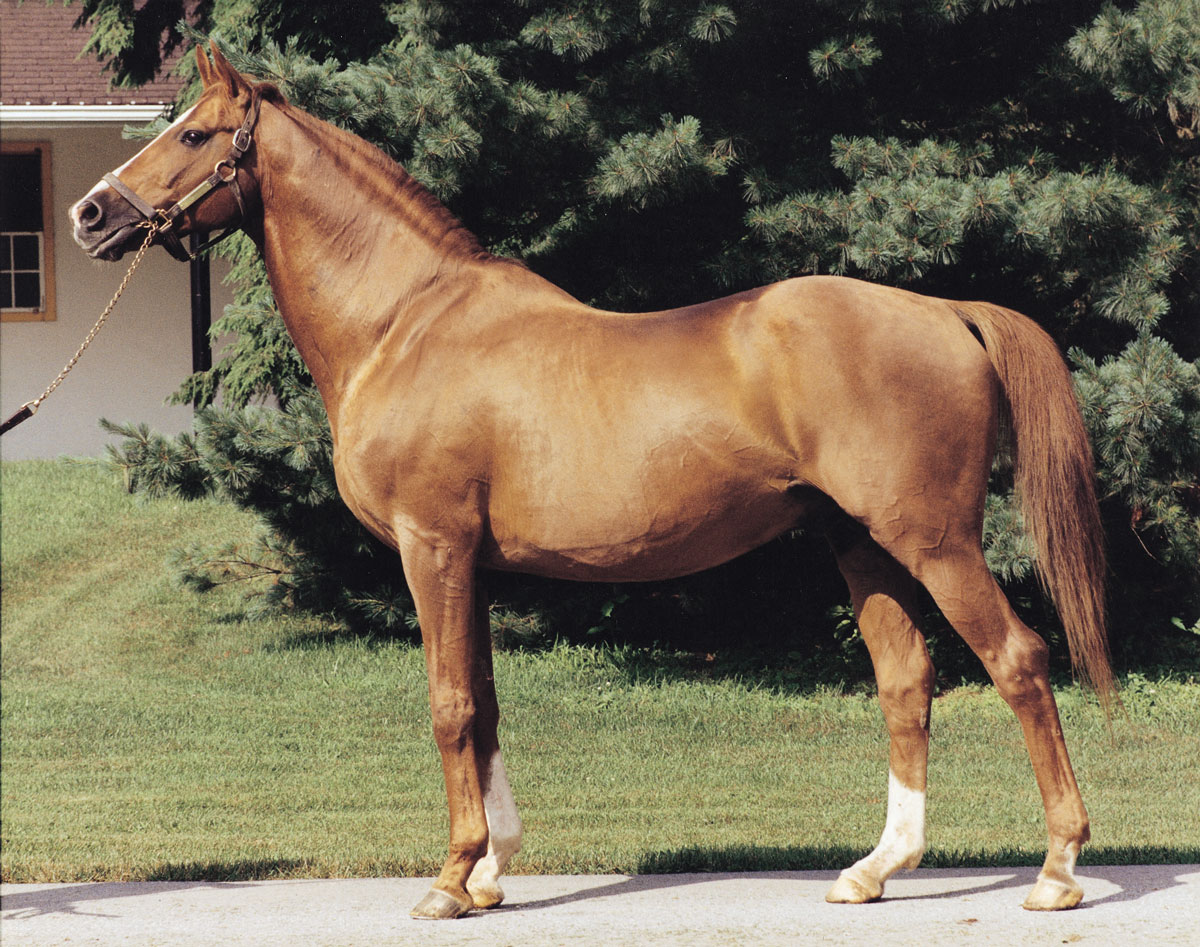 *Le Fabuleux quietly but consistently sired stakes winners in crop after crop at Claiborne, achieving chef-de-race status and reaching the benchmark for great stallions – 10% stakes winners from foals. He is the sire of Horse of the Year Dauphin Fabuleux, two-time Canadian Champion Ben Fab, Ogden Phipps' Grade 1 winner Effervescing, John Henry's famous nemesis The Bart, Irish St. Leger winner Meneval, French St. Leger winner Bourbon, and top sire French Charmer. One of his most famous offspring, Gana Facil, was a modestly successful racehorse who won six of 19 career starts but secured her place in the history of the breed as the dam of Horse of the Year Unbridled. Other Grade 1 winners out of daughters of **Le Fabuleux include Unbridled's brother Cahill Road, as well as Manila, Nastique, Zilzal, Joyeux Danseur and Le Glorieux.
*Le Fabuleux died at Claiborne on July 8, 1985.