Originally posted by Woodbine Racetrack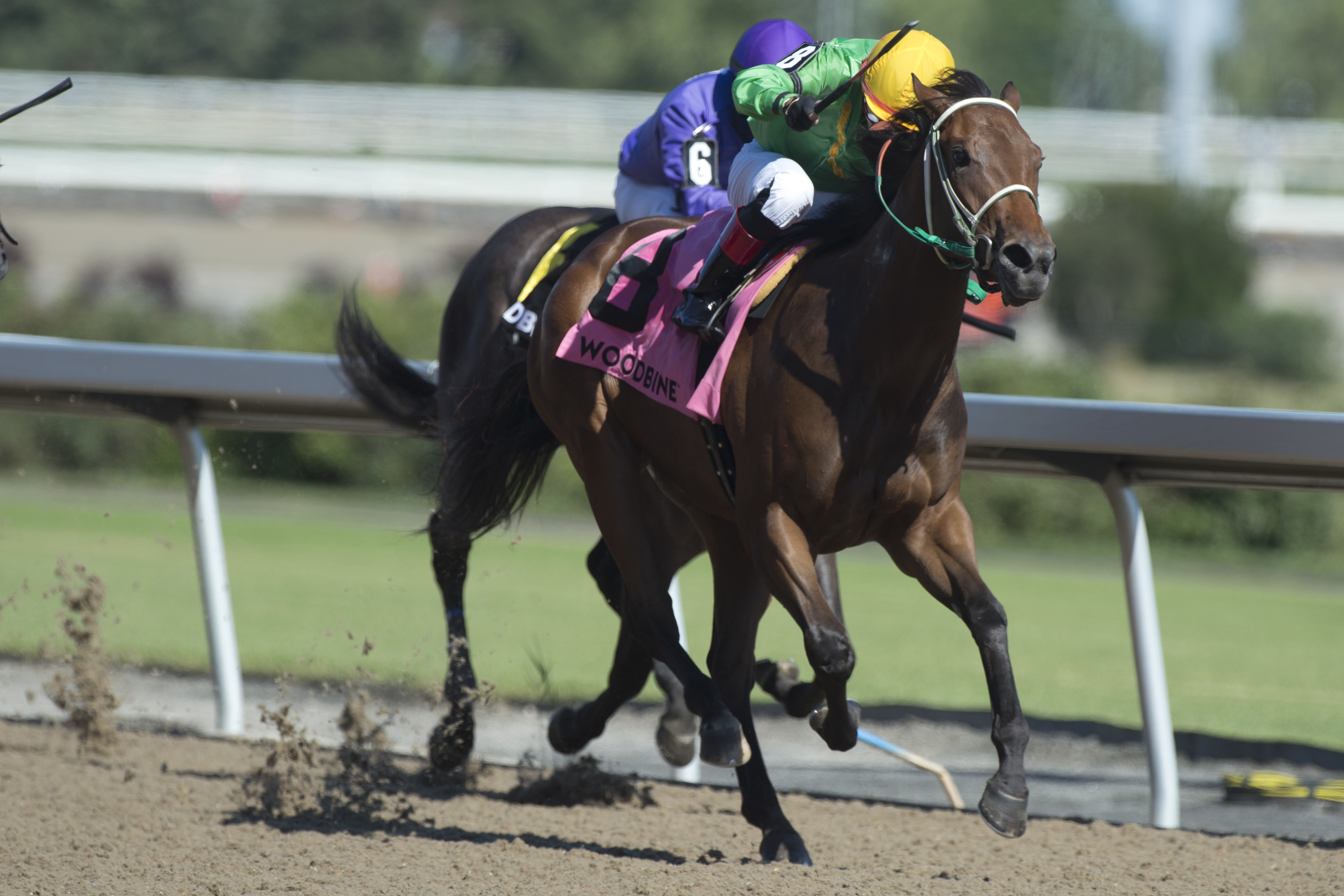 A stubborn Stifling, prominent throughout, stayed on gamely to the wire for second and was elevated to the win position following the disqualification of My Gal Betty, who crossed the wire first, in Saturday's My Dear Stakes, at Woodbine.
Trained by John Bourke and ridden by Pablo Morales for Commonwealth New Era Racing, the bay daughter of Flatter graduated in style with a solid stretch run after pressing the early pace of the speedy Sav.
"I really feel like she deserved to win, she ran so hard," said Morales, who took the 2016 edition of the My Dear Stakes with Velvet Mood. "She broke so good. She got pressured early and even then, she fought them off and kept running to the wire."
Stifling shipped up to Woodbine on Saturday morning from her home base at Presque Isle Downs to make her stakes debut a winning one.
"We got here at 11 o'clock this morning. I prefer to ship the day of when it's close proximity to Presque Isle Downs," said Bourke. "They seem to run a little better. If you come early, they may get frantic and go off their feed. This filly, home is wherever you put her."
Sav sprinted to the lead in the 5 1/2-furlong sprint for juvenile fillies as Tiz Breathtaking, Stifling and My Gal Betty chased for early position through an opening quarter in :23.10.  The free-wheeling Sav continued to set the pace into the turn, under close watch by Stifling, through a half-mile in :46.65 as Questsionoftheday and Entirely began to make their move into contention.
As the field straightened away it was Entirely battling with Stifling for a precarious lead, but My Gal Betty, full of run under Rafael Hernandez, muscled her way between rivals while bumping the rallying Tiz Breathtaking to notch a narrow head score.   Stifling stayed on for place by a head over Tiz Breathtaking.  My Gal Betty stopped the clock in 1:04.85.
Following the race, a stewards' inquiry and claim of foul by Luis Contreras (Tiz Breathtaking) against Hernandez (My Gal Betty) for the bump late in the lane was allowed.  My Gal Betty was disqualified and placed third behind Tiz Breathtaking.
Stifling, bred in Kentucky by Bradley Wayne, banked $60,000 in victory while improving her record to a win and a second from two career starts.
She returned $40.10, $12.30 and $4.20 and fronted an 8-4 exacta with Tiz Breathtaking ($4.60, $2.90) worth $180.60. My Gal Betty ($2.40) completed an 8-4-1 trifecta worth $316.15, with the 8-4-1-7 (Entirely) Superfecta returning $861.95 for $1. Golden Garter was scratched.