The consignor of Keeneland September yearling graduates who have averaged $128,000 since 2010 with 17 percent of Claiborne yearling sales graduates going on to win over $100,000 on the track in recent years, Claiborne brings another exciting group of yearlings to this year's Book 1 sessions.
| Hip | Sire | Dam | DOB | Horse Name | Color | Sex | Session | Barn |
| --- | --- | --- | --- | --- | --- | --- | --- | --- |
| 0082 | War Front | Mrs McDougal | 02/22/2020 | Hip 0082 | Bay | C | 1 | 6 |
| 0086 | Medaglia d'Oro | Naples Princess | 02/24/2020 | Hip 0086 | Dark Bay/Brown | F | 1 | 6 |
| 0117 | War Front | Queen Nefertiti (IRE) | 02/04/2020 | Hip 0117 | Bay | C | 1 | 6 |
| 0129 | Curlin | Royal Obsession | 04/14/2020 | Hip 0129 | Gray/Roan | F | 1 | 6 |
| 0154 | Speightstown | Social Queen | 04/23/2020 | Hip 0154 | Bay | C | 1 | 6 |
| 0159 | Into Mischief | Stanwyck | 03/13/2020 | Hip 0159 | Bay | F | 1 | 6 |
| 0169 | Justify | Stradivarius | 03/23/2020 | Hip 0169 | Bay | C | 1 | 6 |
| 0180 | War Front | Sweet | 02/25/2020 | Hip 0180 | Dark Bay/Brown | C | 1 | 6 |
| 0211 | War Front | True Style | 05/20/2020 | Hip 0211 | Bay | C | 2 | 6 |
| 0233 | War Front | White Light | 01/31/2020 | Hip 0233 | Bay | F | 2 | 6 |
| 0254 | Tapit | American Story | 04/21/2020 | Hip 0254 | Gray/Roan | C | 2 | 6 |
| 0345 | Curlin | Don'tforgetaboutme | 03/12/2020 | Hip 0345 | Chestnut | C | 2 | 6 |
That group starts 86 hips into the first session with a filly out of Naples Princess going through the ring as Hip 86.
The Medaglia d'Oro filly is the first foal out of her Distorted Humor dam, who is a full sister to stakes winner and producer Banker's Buy. Naples Princess is a half-sister to stakes winners City Dweller and Glacken's Gal, with Glacken's Gal the dam of both Medaglia d'Oro's Grade 2 winner Live Lively and the granddam of champion Mitole and top 3-year-old Hot Rod Charlie. That colt looks set to give this filly an update soon after her new buyer takes her home with trainer Doug O'Neill aiming Hot Rod Charlie at the Pennsylvania Derby (G1).
The golden Medaglia d'Oro x Distorted Humor cross this filly is bred on includes eight stakes winners and 12 stakes horses, led by three Grade 1 winners; including Claiborne Farm's own Elate, Breeders' Cup heroine New Money Honey, and Hong Kong champion Golden Sixty (AUS).
Granddaughters of Distorted Humor's sire Forty Niner have proven to love Medaglia d'Oro with the 71 runners by Medaglia d'Oro out of Forty Niner granddaughters including 15 stakes horses, led by Horse of the Year Rachel Alexandra and champion Songbird.
---
Out of a full sister to Group 1 winner The Gurkha comes Hip 117 from the Claiborne consignment. The WAR FRONT colt's Group 3-placed dam Queen Nefertiti has already found success with WAR FRONT as the dam of the winning filly Meritaten from her only foal to race. One of two stakes performers for Group 3 winner Chintz, Queen Nefertiti also sees her dam's half-sister as the dam of two New Zealand stakes winners and the granddam of Rosehill Guineas (G1) second Arrogant.
This WAR FRONT x Galileo cross has proven to be extremely successful with 26% stakes performers from its 77 runners, including 11 stakes winners and six graded stakes winners led by three Grade 1 winners.
---
Hip 129 is a filly by top sire Curlin out of the Grade 2-placed Royal Obsession. Tapit daughter Royal Obsession is one of two stakes placed runners from four winners out of Rote, who is also the dam of multiple stakes placed Jumby Bay. Rote also brings multiple updates to this page with two full brothers to Royal Obsession winning in 2021.
A winner herself, Rote is also a half-sister to Grade 1 winner Magnificent Song and four other stakes placed runners, including Group 2-placed Great Barrier Reef and two Group 3-placed runners. Another one of Rote's half-sisters is the dam of Venezuelan champion Themindfulangel.
This filly is bred on the same Curlin x Tapit daughter cross that produced multiple graded stakes winner and multiple Grade 1-placed Tenfold and stakes-placed Editor in Chief. Overall, a very successful sireline cross, 36% of Curlin's G1Ws are out of daughters from the A.P. Indy sireline, including champion Stellar Wind and leading 3-year-old filly Malathaat.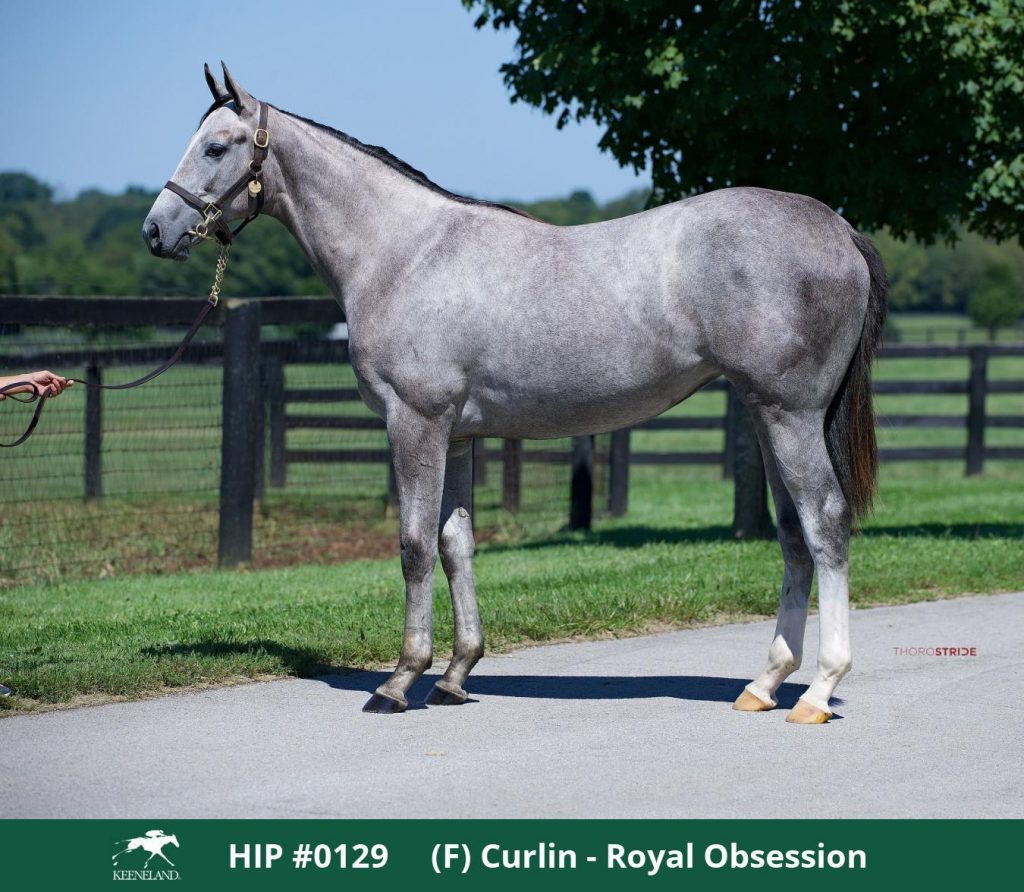 ---
Claiborne is offering a full brother to Grade 1 winner Force The Pass as Hip 154 on Monday. That son of Speightstown is out of multiple graded stakes winner Social Queen, who has produced three winners from three to race. Social Queen is one of three stakes producers for stakes winner and graded stakes-placed Gal On The Go, who is the granddam of multiple stakes winner and multiple Grade 1-placed Wonder Gal and multiple graded stakes placed Nakamura as well.
In addition to his full brother, this colt is bred on the same cross that has produced five stakes performers from 30 runners with three of the five winning or placing at the graded stakes level.
---
By the sire of Kentucky Derby (G1) winner Authentic comes a filly who has roses present throughout her pedigree. Selling as Hip 159, the filly is the fourth foal out of Empire Maker's Grade 3 winner and multiple Grade 1-placed Stanwyck. That mare is a half-sister to two millionaires, to not only Kentucky Derby winner Giacomo but also multiple Grade 1 winner Tiago, who finished third in the 2007 Belmont Stakes (G1) and was a Kentucky Derby contender. Additionally, the Into Mischief / Empire Maker cross is responsible for Grade 1 winner Mandaloun, who was runner-up in this year's Derby.
A family that has had multiple updates this year, it also has multiple stakes performers with Stanwyck's half-sister the granddam of stakes winning Mirage. Half-sister Styler is strongly proving her worth as a broodmare as well as the dam of stakes winner Almond Roca among three stakes performers and the granddam of stakes winner and Keeneland track record-setter Nashville.
---
From the first crop of undefeated Triple Crown winner Justify is Hip 169 out of winning Street Cry mare Stradivarius. A winner herself, Stradivarius is a half-sister to Grade 1 winners Eskendereya and Balmont. Stradivarius is also a half-sister to the dam of stakes winner Jessica Krupnick and multiple stakes-placed Western Curl.
Also from the family of Grade 2 winner Blazonry and three other stakes performers listed on the page under his third dam, the colt is bred similarly to champion Skitter Scatter and multiple Group 1 winner Con Te Partiro. Those two are by Justify's sire Scat Daddy out of Street Cry mares with Group 2-placed Never Talk by a Scat Daddy son and also out of a Street Cry mare.
---
Another WAR FRONT colt wraps up the first day of offerings for Claiborne as Hip 180. He is out of a multiple-winning BLAME full sister to Grade 1 winner Fault. That mare, Sweet, is also a half-sister to Grade 3-placed Betweenhereandcool and stakes-placed Congenial.
Hip 180's granddam is the stakes winning mare Charming N Lovable, who is one of three stakes winners and five stakes performers for stakes-placed St Lucinda. Charming N Lovable is one of four stakes producers for St Lucinda with her half-sister Laffina producing three-time Grade 1 winner Bast and half-sister Move Clickly producing Grade 2 winner Fioretti and stakes winner Louisville First with another mare the dam of stakes winners South Bend and He's The Reason.
---
The second day of Book 1 sees four sent out by Claiborne, kicking off with two WAR FRONT offerings.
The first of those is Hip 211, a War Front colt out of True Style. A half-sister to dual Grade 1 winner and successful sire Scat Daddy, True Style's three winners from four to race include stakes winner and Grade 2-placed Classic Fit. True Style is also a half-sister to Grade 3 winner Antipathy and the stakes winning duo of Grand Daddy and Lovestruck.
All signs point to this colt having massive stakes ability from his stallion-making family with his Grade 1-winning third dam Likeable Style also producing multiple stakes performers led by Grat. In addition to being a stakes winner herself, Grat is the dam of Grade 2 winner Old Time Hockey.
---
Twenty-two hips later is Hip 233, a filly by WAR FRONT out of Tapit daughter White Light. The first foal out of White Light, Hip 233 sees her dam as the full sister to Grade 3-placed Hint of Roses and half-sister to both multiple stakes winner Leadem In Ken and stakes winner Prissy.
One doesn't get much better than this filly's third dam, Kitten's First. Kitten's First is the dam of champion racehorse and sire Kitten's Joy, Grade 1 winner Precious Kitten, and stakes winner Justenuffheart among others. Justenuffheart is the dam of champion Dreaming of Anna and has created her own line of success while Precious Kitten is also the dam of Grade 3 winners Divining Rod and Jehozacat among others.
With just nine starters on the direct WAR FRONT / Tapit mare cross, there is already a Grade 1 winner in Halladay, accompanied by Grade 3 winner Munitions and four other winners, including lightly raced Zainalarab who scored an impressive allowance victory at this year's Saratoga meet, and looks to add to that roster of stakes horses.
---
A major update was given to son of Tapit – Hip 254 – on July 28th when Lake Avenue was a close second in the Honorable Miss Handicap (G2). Also by Tapit out of a half-sister to Hip 254's dam, Lake Avenue most recently was runner-up in the Ballerina (G1) at Saratoga August 28th.
Hip 254 is also a three-quarter brother to dual Grade 1 winner American Gal and stakes-winning, Grade 2-placed Americanize, who are by the Tapit son Concord Point.
Their Grade 2-placed dam American Story is out of multiple stakes winner Holiday Runner, who is not only the dam of dual Grade 1 winner Seventh Street (that mare the dam of both aforementioned Lake Avenue and Grade 1-placed Marking), but also the dam of Grade 1-winning multimillionaire Reynaldothewizard.
Already proven to be a potent sire cross for the family, the direct Tapit x Ghostzapper cross that this colt is bred on is responsible for 36% stakes horses.
---
Claiborne's final offering in Book 1 is Hip 345, a colt by Curlin out of two-time Malibu Moon winner Don'tforgetaboutme. Don'tforgetaboutme is a half-sister to Grade 2 winner Red Ruby, Grade 3 winner Mo Tom, and stakes winners Beautician and Bella Castani with Beautician also dual Grade 1-placed. Bella Castani herself is also the dam of multiple stakes-placed Be Sneaky.
This colt is bred on the same cross as six-time Grade 1 winner and champion Stellar Wind.
Book 1 of the Keeneland September Sale takes place on September 13 and 14 with a 1p.m. ET start time each day.