The Story of Fanfreluche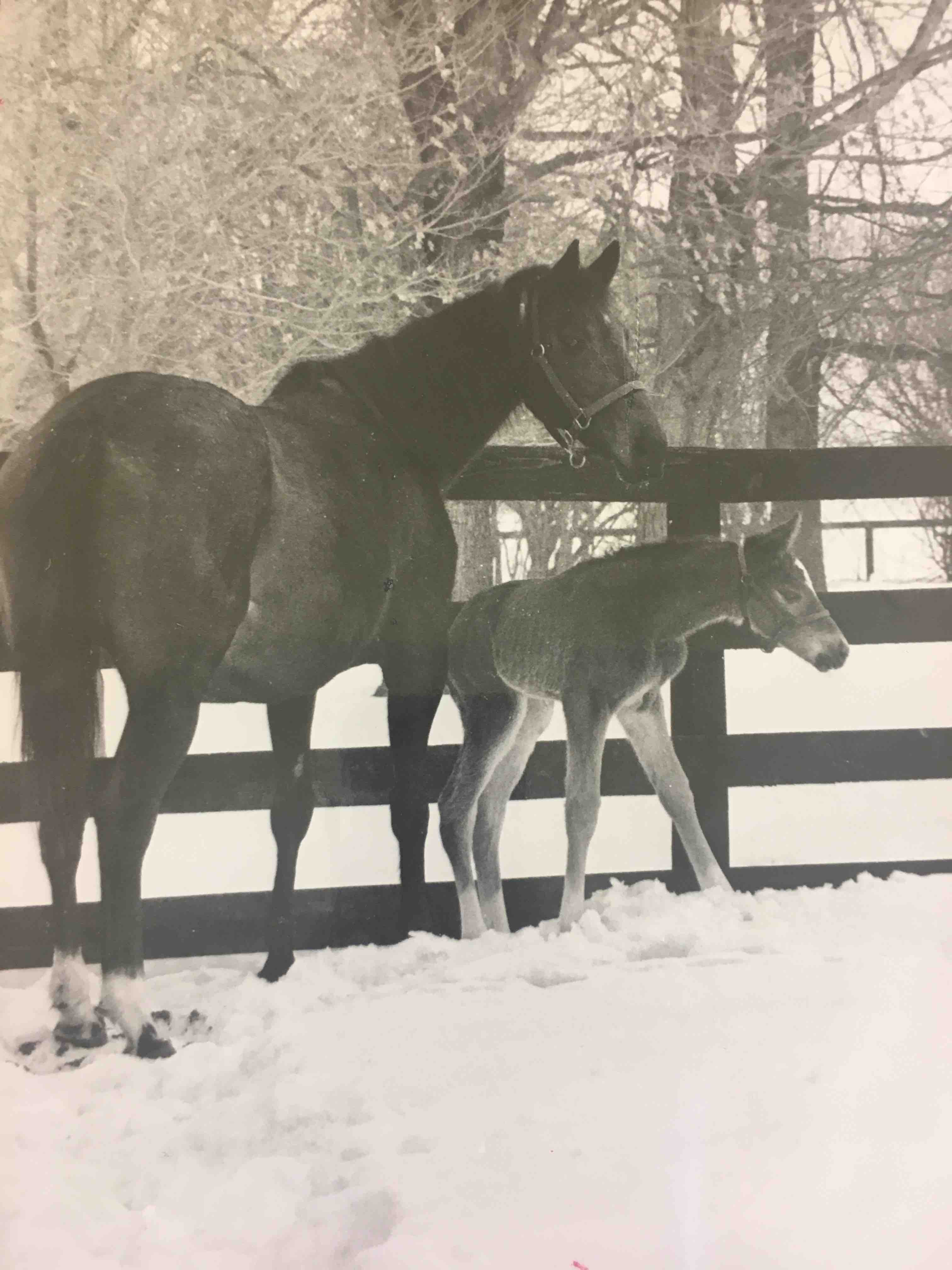 Fanfreluche with colt by Secretariat | Photo from Keeneland Library Featherston Collection
This foaling season marks the 40th anniversary of a happy conclusion to one of the most bizarre stories in the history of Claiborne Farm.
In June 1977, Fanfreluche, the 1970 Canadian Horse of the Year, was grazing in her paddock, safely in foal to Secretariat. Plans called for her to return to her owner in Canada, but before that could happen, she was kidnapped from Claiborne.
The Kentucky State Police and the FBI worked together on the case, and a $25,000 reward was offered, but no one knew what had happened to the champion racemare, who was valued at $500,000.
News of her disappearance spread far and wide, and her story would later appear in countless publications, including the New York Times and Sports Illustrated.
While investigators fielded tips for months, it turns out Fanfreluche was living a pretty quiet life about 150 miles away from Claiborne in Tompkinsville. One summer morning, Larry McPherson had found the mare standing in the road in front of his farm. He took her in, expecting her owners to come looking for their missing livestock.
Of course, McPherson had no idea who the mare really was.  As the days passed and no one claimed her, she was given the name Brandy and treated like the other horses on the farm. This included giving rides around the property to friends and family.
That December, someone finally showed up looking for her—the FBI. Acting on a tip, they checked Brandy's lip tattoo and confirmed it was indeed actually Fanfreluche.
Sent back to Claiborne, Fanfreluche was deemed none the worse for wear, and it was confirmed she was still in foal. On Feb. 16, 1978, she delivered a healthy bay colt. He was later named Sain Et Sauf, which is French for Safe and Sound.
Fanfreluche had a long and productive life before passing away in 1999 at the age of 32.  She is a member of the Canadian Horse Racing Hall of Fame and also won the Sovereign Award for outstanding broodmare.
Although Sain Et Sauf had a rather unremarkable racing career, Fanfreluche produced champions L'Enjoleur, La Voyageuse, and Medaille d'Or, and she is found in the pedigrees of champion sires Flying Spur and Encosta de Lago, among others.
Not surprisingly, her influence can still be seen to this day.  For example, she is also the fourth dam of Australian multiple Group 1 winner Russian Revolution, who was recently retired after winning the Ladbrokes Oakleigh Plate (G1) in his final career start.