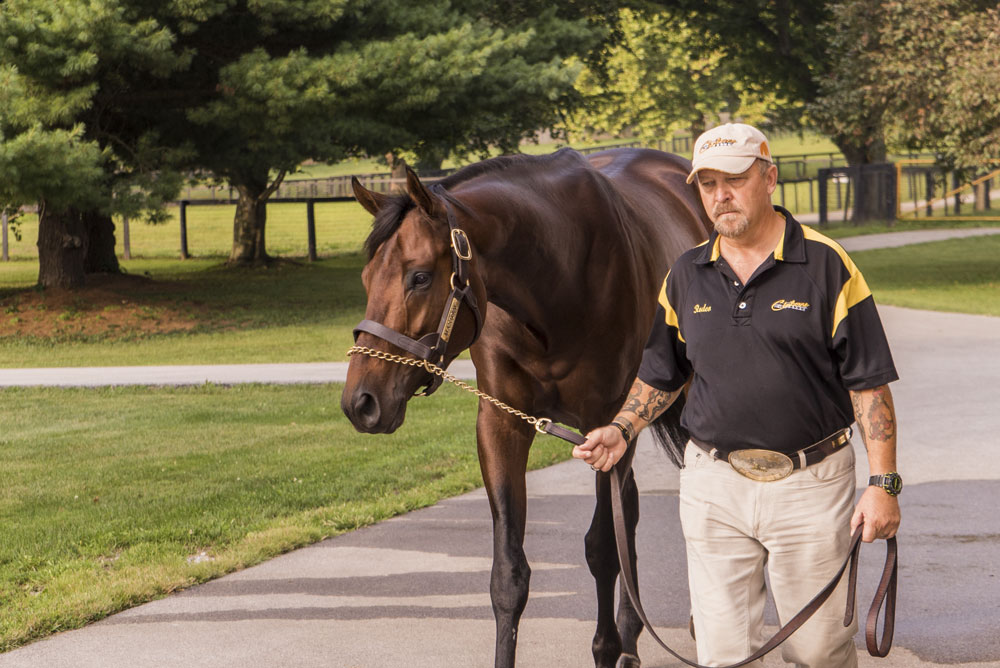 Mastery with his groom Rodeo Cheek at Claiborne Farm.
Claiborne is excited to be kicking off a monthly 'Stallion Spotlight' series, where we will feature a stallion each month highlighting their career on the track and as a stallion. In addition, we will give you some insider insight as to what each stallion is like to work with on the farm. We kick off this series with Mastery, an exciting young stallion that entered stud at Claiborne in 2018. His first foals are now hitting the ground, and we couldn't be more excited about the future for this son of Candy Ride (ARG).
Breeding: Bred in Kentucky by Stone Farm, Mastery is a son of world class sire Candy Ride (ARG) out of  the winning Old Trieste mare Steady Course. Mastery is a half-brother to stakes winner Clear Sailing. His dam is a half-sister to Jump Start, winner of the Champagne Stakes (gr.I) and now the perennial leading sire of the Mid-Atlantic region. His third dam is a full-sister to the great sire Miswaki. Mastery was purchased by Gatewood Bell of Cromwell Bloodstock on behalf of Cheyenne Stables for $425,000 at the 2015 Keeneland September Yearling Sale.
Race Record: Mastery retired as an undefeated Grade 1 winner, going a perfect 4-4 in his racing career. A better team you couldn't ask for; Mastery was trained by Hall of Fame trainer Bob Baffert and partnered with Hall of Fame jockey Mike Smith for top owner Cheyenne Stables. His dominant victories included the 2016 Gr. 1 Cash Call Futurity at Los Alamitos, the 2017 Gr. 2 San Felipe Stakes at Santa Anita and the Gr. 3 Bob Hope Stakes at Del Mar. Thought by many to be the early favorite for the 2017 Kentucky Derby, Mastery unfortunately suffered an injury in his last career start that lead to his retirement to stud.
Stud Career: Mastery bred his first group of mares in 2018, and 139 mares visited the first season sire at a fee of $25,000. In his first book of mares, Mastery bred 84 blacktype mares/blacktype producers including the dams of Monomoy Girl (G1) who recently sold in foal to Mastery for $1,850,000 at the Fasig Tipton November Sale & Champion Musical Romance (G1).  His career as a stallion is just getting underway as his first foals are just starting to hit the ground, but we are very pleased with his offspring so far and look forward to watching his progeny grow and head to the races!
Behind the Scenes: We caught up with Mastery's groom, Rodeo Cheek, to learn a little more about Mastery's personality and life as a stallion:
Firstly, how long have you been with Claiborne and how long have you been Mastery's Groom? I have been with Claiborne for 11 years, and have been Mastery's groom since he arrived at Claiborne.
Tell us a little bit about Mastery's personality? He is a very smart and kind horse.
Does Mastery have any quirks/funny habits? He loves to try to get into my pockets and is always playing with things.
What are Mastery's favorite things? When he first arrived to Claiborne, he was not very fond of treats but now loves them. He also loves to hold one of my brushes while I groom him.
Do you have a favorite story or memory involving Mastery? I remember the first time it snowed, and Mastery wasn't quite sure what to think about it. (Mastery's racing career was based in California, where he wouldn't have seen much snow!)
Does Mastery's demeanor change much between the off season and breeding season? He gets a little bit more excited during the breeding season than he typically is during the off season.
Can you take up through Mastery's schedule during the breeding season? He is turned out at night, so in the mornings I bring him in and feed him. Once he finishes eating I groom him, he will then go to the breeding shed and then back to his stall for a few hours. He will go to the breeding shed again in the afternoon, and after that I will turn him back out for the evening. He loves his new job and is very happy at Claiborne Farm!
Rodeo grooms Mastery and makes sure he is well taken care of.