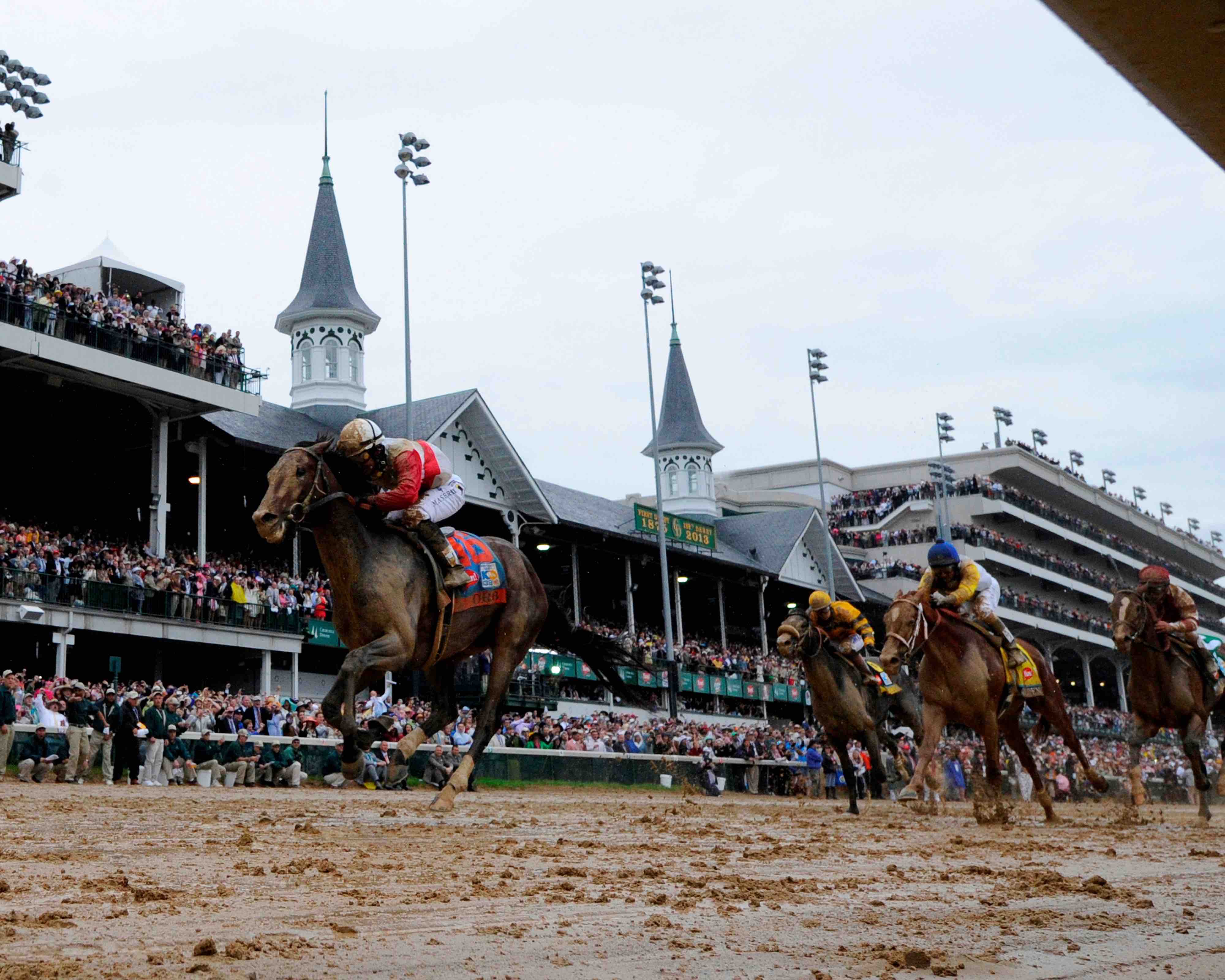 This month's Stallion Spotlight features Orb, a Kentucky Derby winning son of Malibu Moon that was bred and raced by longtime Claiborne clients Stuart S. Janney III & Phipps Stable.
Breeding: Orb was a homebred for the iconic partnership of Stuart S. Janney III & Phipps Stable. Between the two families, or in partnership of the two you find some of the great horses in history: Personal Ensign, Bold Ruler, Coronado's Quest, Ruffian, Easy Goer, Buckpasser, My Flag, and Point of Entry just to name a few. The families' partnership with Claiborne farms has been a defining factor in the industry over the past 50 years, however the ownership group nor their trainer Shug McGaughey had managed to win a Kentucky Derby – that is, until Orb came along.
Orb is by Malibu Moon out of the Unbridled mare Lady Liberty. Bred on the popular and productive A.P. Indy – Unbridled cross, Orb is as well-bred a horse as you can find. A 4-time winner in 23 starts, Lady Liberty was a durable race filly and was competitive (though unplaced) in graded stakes company. Orb's second dam is the G2SW Black Eyed Susan winner Mesabi Maiden. If you go all the way back to Orb's fifth dam you will find Shenanigans – a wildly productive broodmare and most notably the dam of Ruffian, one of the top race fillies in history as well as Buckpasser, a useful sire himself.
Malibu Moon is a son of A.P. Indy who was precocious at 2, however his race career was cut short due to a slab fracture of his right knee. What Malibu Moon left behind at the racetrack he has more than made up for in the breeding shed. Beginning his career at a modest $3,000 fee in Maryland, Malibu Moon sired an impressive 10 black type runners in his first crop, including the Grade 1 winner Moon Thistle. In just four years he was moved to Kentucky to Spendthrift Farm where he will stand for a fee of $75,000 in 2019. Malibu Moon has sired 1 champion and 47 graded stakes winners to date.
Race Record: Orb's career on the racetrack spanned 12 races during which the bay son of Malibu Moon amassed over $2,600,000 in lifetime earnings. Orb broke his maiden at 4th asking in a stout maiden special weight field that included the likes of eventual graded stakes winners Freedom Child (also a son of Malibu Moon) and Revolutionary. After winning his next start in allowance company, Orb begun carving his way to the Kentucky Derby in sunny south Florida, winning 2 key Derby prep races in the Gr. 2 Fountain of Youth as well as the Gr. 1 Florida Derby.
From there, it was all eyes on the first Saturday in May. Over a sloppy racetrack, which he had minimal previous experience with, Orb raced well off the pace and charged late to win the run for the roses by 2 ½ lengths as the 5-1 post time favorite. This marked his fifth consecutive victory.
Orb raced 4 more times after the Derby, all of which were in Grade 1 company. Fourth in the Gr. 1 Preakness and third in both the Gr. 1 Belmont as well as the Gr. 1 Travers, Orb had certainly left his mark on the racetrack. He retired to stud at his birthplace, Claiborne Farm, in November of 2013 for a fee of $25,000.
Stud Career:   With his oldest progeny now 4, Orb's career as a stallion is just getting rolling. In 2018 Orb sired his first Grade 1 Stakes Winner when Sippican Harbor bested a field of 11 to win with Spinaway Stakes at Saratoga. To date, Orb has sired 3 blacktype winners and 66 total winners from 131 starters.
Orb's progeny has also been well received at public auction. His yearlings have fetched prices as high as $1,000,000, and his 2 year olds have sold for up to $1,250,000. We look forward to watching Orb's coming generations on the racetrack!
Behind the Scenes: Here's what Orb's groom, Billy Buckler, had to say about working with the bay stallion on a daily basis:
Firstly, how long have you been with Claiborne and how long have you been Orb's Groom? I've been with Claiborne for nearly 11 years and I've been Orb's groom for roughly 4 years.
Tell us a little bit about Orb's personality? He can be a little bit of an aggressive stallion, but if you know how to approach him you can get along with him.
Does Orb have any quirks/funny habits? When I let him stick his head out of his stall during a tour and I'm talking about him he likes to shake his head up and down like he is agreeing with me. Sometimes you will also hear him in his stall slapping his lips together.
What are Orb's favorite things? He loves his peppermints and also loves to see what he can and can't get away with.
Do you have a favorite story or memory involving Orb? I don't really have one specific memory. I've got a lot of different memories from working with him over the years.
Does Orb's demeanor change much between the off season and breeding season? He can get a little more aggressive during the off season. During breeding season he is a little calmer.