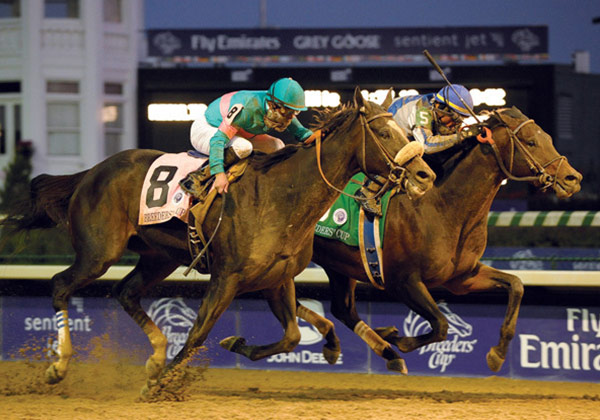 Blame defeats Zenyatta in the 2010 Breeders' Cup Classic.
This month's Stallion Spotlight features Blame, Eclipse Award 2010 Champion Older Horse and most famously the horse that beat Zenyatta in the 2010 Breeders' Cup Classic!
Breeding: A homebred for Claiborne Farm and Adele Dilschneider, Blame is a son of successful Claiborne stallion Arch out of Liable, a stakes-placed daughter of Seeking the Gold, another star on the Claiborne stallion roster.  In fact, there are eight stallions in Blame's four-cross pedigree that distinguished themselves while at Claiborne Farm.  They include Princequillo, Buckpasser,  Nijinsky II, Danzig and Mr. Prospector.  Blame's powerful female family has also had a close association with Claiborne for over 60 years.  His third dam is the aptly-named Special, a daughter of Forli (another Claiborne stallion), and she is the dam of Champion and major sire Nureyev and the granddam of the dominant Sadler's Wells. Blame's breeding combines the stamina of the Roberto sire line (grandsire of Arch) with the speed of the Mr. Prospector line.
Race Record: A three-time grade one winner of over $4.3 million and Eclipse Champion, Blame's racing career needs no introduction. After a MSW win at Keeneland at 2, Blame stepped up to graded stakes company during his 3-year-old campaign in the 2009 Gr. 2 Super Derby, and from that point forward was 1st or 2nd in all 8 of the graded stakes he contested. Victories included races such as the Gr. 1 Whitney Handicap, Gr. 1 Stephen Foster Handicap, Gr. 2 Clark Handicap and of course, the Gr. 1 Breeders' Cup Classic. In his final start, Blame took on superstar mare Zenyatta, and after one of the most exciting stretch runs we can remember denied the great race mare of an otherwise flawless career by a head. After running nine consecutive 100+ Beyers, a unanimous vote named Blame the Eclipse Award 2010 Champion Older Horse and he retired to stud. In 2010, Claiborne Farm was celebrating 100 years of breeding, raising, and racing Thoroughbred horses.  It was somehow fitting that at the end of that special year, a homebred colt with strong ties to the farm's rich history would bring home racing's biggest prize.
Stud Career:   Blame returned to his birthplace and bred his first book of mares in 2011, with 109 mares visiting Blame at stud at a fee of $35,000. So far, he has sired 7 crops and sired 25 stakes winners. Blame notched his first Grade/Group 1 winner when Senga won the G1 Prix de Diana Longines at Chantilly, France in June 2017.  February was a huge month for Blame, with fillies Blamed and Marley's Freedom both notching graded stakes on the same day! Blame's chief money earner to date is Grade 1 Stakes Winner Marley's Freedom. With 5 graded stakes victories, the 5-year-old daughter of Blame has amassed over $935,000 in earnings. Blamed tallied her second Grade 3 victory on February 17th when she won the Gr. 3 Royal Delta Stakes at Gulfstream for Bill Mott (who had also trained the races namesake, Royal Delta!). Fault, another Grade 1 Stakes Winner by Blame that Claiborne bred, raised, and sold as yearling recently retired from racing and sold at the 2018 Fasig Tipton Night of the Stars in November for $1,200,000 to Shadai Farm. Blame sired 15% stakes horses in 2018, and was ranked #2 of his crop by Lifetime Graded Stakes horses. His 2019 fee is $30,000.
Co-Owner Adele Dilschneider and groom Kevin Lay lead Blame off the van to his new home in the stallion barn at Claiborne upon his retirement.
Behind the Scenes: Here's what Blame's groom, Kevin Lay, had to say about working with the bay stallion on a daily basis:
Firstly, how long have you been with Claiborne and how long have you been Blame's Groom? I grew up on Claiborne, so it runs in my blood. My grandfather and father both worked here. I've been Blame's groom since his retirement from racing after the Breeders' Cup in November 2010.
Tell us a little bit about Blame's personality? Blame is very intelligent and kind. He's also a very proud and confident horse.
Does Blame have any quirks/funny habits? He likes to stick his tongue out at visitors while they're touring Claiborne.
What are Blame's favorite things? Blame LOVES the mud. Since I've been taking care of him he's come in clean from his turnout about as many times as I have fingers and toes. He also loves his peppermints.
Do you have a favorite story or memory involving Blame? My favorite memory is when I got to lead Blame to his stall alongside of (co-owner) Adele Dilschneider upon arriving back to the farm after his retirement (pictured above)!
Does Blame's demeanor change much between the off season and breeding season? His demeanor doesn't change too dramatically from the off season to the breeding season. He is usually the same cool customer throughout the year, waiting and watching for his next peppermint or for you to say its time to go to work!