The day Arch passed away was one of the saddest days of Rodeo's life.  It was unexpected, and Rodeo wasn't prepared to lose his equine friend.  It brings tears to Rodeo's eyes that his time with one of Claiborne's greats is over.  Arch's presence here at Claiborne will not be soon forgotten; Arch was special.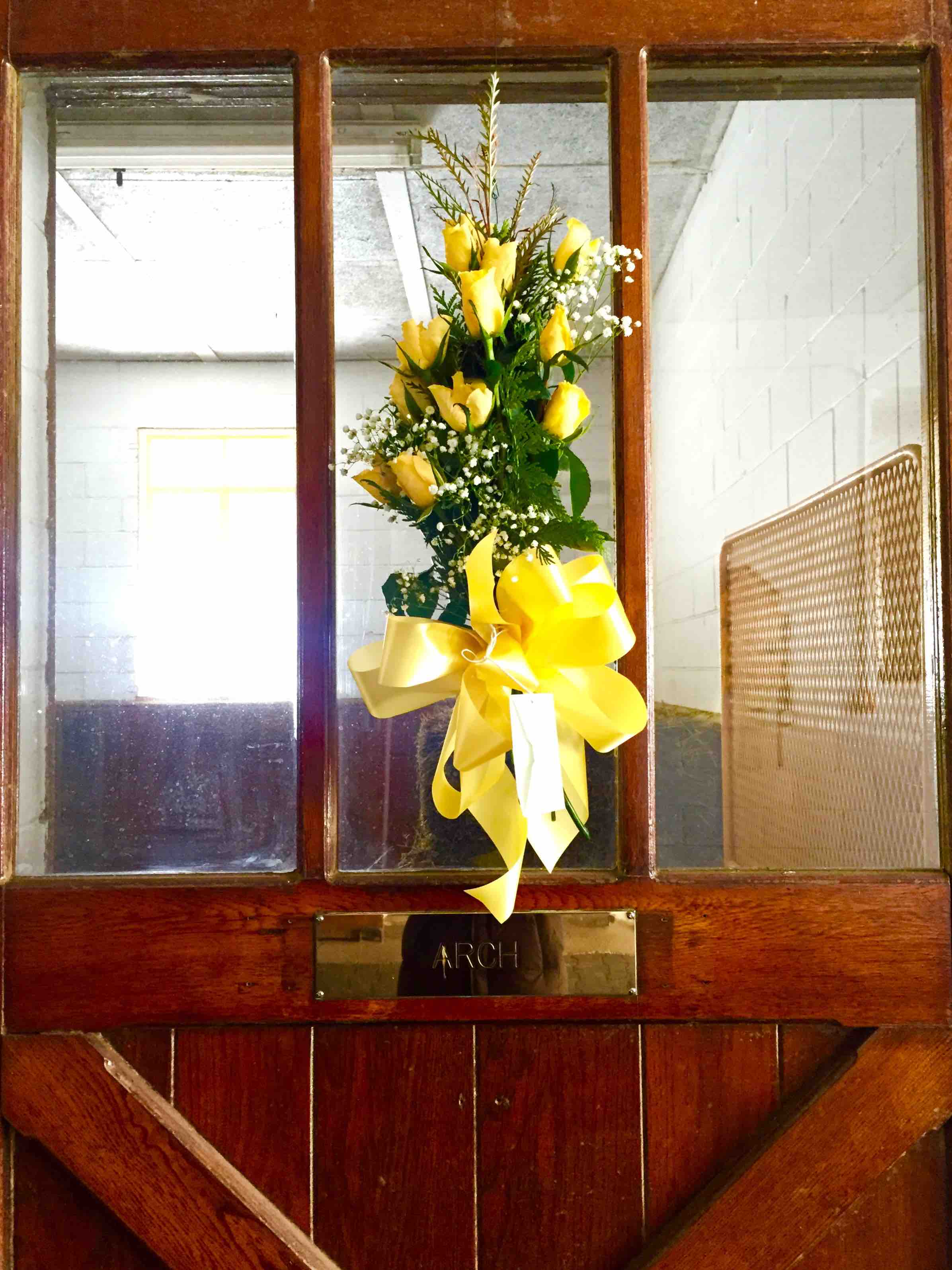 Arch was loved, and Rodeo saw to Arch's needs on a day in and day out basis for 8 years.  He had actually only acquired the job of being Arch's main groomsman by switching out another horse for Arch.  Another team member and Arch simply weren't getting along because they just couldn't relate to each other.  Rodeo literally grasped the halter of this great stallion and saw the opportunity to perhaps bond with this magnificent, strong-willed horse and that is the beginning of their story!
Over time, Rodeo and Arch created a bond that felt more like "family" than an actual person caring for just an animal.  Rodeo took the time to notice the things that Arch enjoyed and carefully watched for the things that really could trigger his friend to become annoyed or hard to handle.  As time went on, Rodeo learned that this stallion was a special, well-mannered horse that had quite the precarious personality at times.
For instance, when Rodeo would go to get him out for visitor showings, Arch would swing open the door with his nose and then attempt to slide the slat in his stall across.  He loved showing off the fact that he knew what was supposed to happen next.  Rodeo said that if you didn't pay attention, Arch would have easily let himself out.  Another memorable moment for him and Arch was when he returned from vacation.  Arch would hear his voice and let out a loud whinny to let Rodeo know that he had truly missed his friend and was happy that he was back!
Rodeo's favorite time spent with Arch was when Arch wanted to nuzzle with the whiskers on Rodeo's face.  He just loved to wipe his nose back and forth while Rodeo loved the intimate touch his friend was willing to have with him.  Of course, as most of our horses here at Claiborne, Arch also loved his peppermints!  When he heard the crinkling noise of the wrapper being removed, he would nicker for his favorite hard treat.
Around the stud lot, Arch wasn't a slacker by any means!  He was well known to love the ladies (mares) that called upon him and for getting the job done!
It's easy to see that the recollection Rodeo has of Arch is like that of a family member, not just a great stallion with a strong willed personality that loved his peppermints and time spent with his friend.  All of us along with Mrs. Dilschneider will miss this magnificent stallion standing here at Claiborne Farm, but his legacy will live on in the many foals that have been produced by this great sire and their racing, breeding or stallion careers!