We have loved reading and hearing about how much you have enjoyed following Claiborne resident, Sabbatical, and her colt's journey on the newly launched Foal Patrol program. While following her is far from over, foaling season (AKA the most exciting time of the year) is just getting started!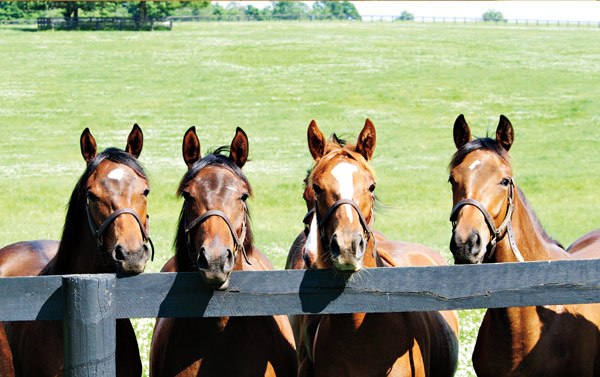 We want to share some other mare's stories with you and provide more information about our breeding and foaling process. We've selected three mares to follow this year through their pregnancy, foaling, breeding, and weaning seasons. While we won't be able to provide live video, there will be photos, recorded videos, and written content/stories. We are hoping to write a new blog post every week or two to keep you up to date on their progress. We will announce on our social media accounts when we publish a new post, so be sure you're following us on Facebook, Twitter, or Instagram (or just check the blog often)! So, without further ado, we're excited to introduce the three mares and offspring we'll be following this year! Enjoy!
Don'tforgetaboutme
Due date: 3/4/2018
In foal to: Uncle Mo
Age: 6 years old; born in 2012
Pedigree: Malibu Moon – Caroni
Offspring: Don'tforgetaboutme is pregnant with her second foal. Last year, she had a War Front filly that sold for $300,000 in the Keeneland November Breeding Stock Sale.
Owner: Claiborne Farm (100%)
Fun fact: Don'tforgetaboutme is a half sister to graded stakes winner Mo Tom. 
Orate
Dute date: 2/1/2018
In foal to: Blame
Age: 14; born in 2004
Pedigree: A. P. Indy – Preach
Offspring: This will be Orate's 9th foal and the first one by Claiborne stallion Blame.
Owner: Claiborne Farm (100%)
Fun fact: Orate is a full sister to the late (and great) Pulpit.
Miss Tattle Tale
Dute date: 4/5/2018
In foal to: Orb
Age: 7 years old; born in 2011
Pedigree: Tale of the Cat – Meadow Miss
Offspring: This will be Miss Tattle Tale's second foal. Last year, she had an Orb filly (who happens to be one of our Instagram star's as well)!
Owner: Deborah R. Hancock (100%)
Fun fact: Her owner visits her almost every days and brings her a handful of peppermints. It's safe to say she's the most spoiled mare on the farm!