Original post published on Daily Racing Form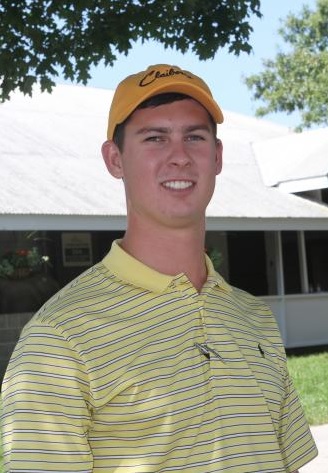 Walker Hancock. Photo by Keeneland.by
Joe Nevills
 | 09.09.2016 | 9:06am
While the past century has brought myriad changes to the Thoroughbred industry, there are a handful of things that remain certain: The sun will rise in the east, the seasons will come and go, and a Hancock will be in charge at Claiborne Farm.
Walker Hancock, 27, became the fourth generation to assume control of the historic farm, taking over in 2014 as Claiborne's president from his father, Seth.
Like his father, the younger Hancock took the helm of the Paris, Ky., operation in his mid-20s. Hancock joked that he began his on-the-job training at age 4, eventually working with the farm's yearling sale prep operation, racing stable, and as the resident veterinary technician during breeding season before taking on larger roles.
Since he became Claiborne's president, the farm has started the stallion careers of Kentucky Derby winner Orb, Data Link, and Lea, and campaigned graded stakes winners Lea, Departing, and Size with longtime business partner Adele Dilschneider. Claiborne Farm also has consigned a seven-figure horse at the past two Keeneland September yearling sales, both by elite commercial sire War Front, who resides as the farm's flagship stallion.
Walker Hancock, who recently was elected as a Jockey Club member, spoke with Daily Racing Form in August about his first years at the helm of Claiborne Farm and his vision for the farm and the industry going forward.
How would you describe your first year and a half as president of Claiborne Farm?
"It's been good. It's been a learning process. Thankfully, I have my dad still around to bounce things off and learn from. He didn't have that luxury because his father passed away abruptly. He was at a young age, I'm at a young age, but I'm blessed that he's still around and we've got a good team here that makes everything a lot easier. It keeps it easy on me."
What are you proudest of during your time in the position?
"I was pretty proud of Lea last year. The decision to bring him back after his illnesses, and then the way he just fought so hard in each race he ran in and came in second to some really nice horses. He went to Dubai and came third in the World Cup, then to come back and nearly miss in the Stephen Foster, nearly miss in the Woodbine Mile, and then run a great race in the Breeders' Cup Dirt Mile and just get beat by a better horse in Liam's Map.
"I'm very proud of the way his racing career ended, and now he's a stallion here, so I'm looking forward to his offspring in the spring."
How much of the philosophy of past generations of Hancocks have you brought into your own management style?
"My grandfather [Arthur B. Hancock Jr.] coined the phrase, 'Do the usual unusually well,' and when I was little, I didn't understand what that meant. Now that I'm in this position, I understand it's the little things that count.
"It's hard enough to get a mare in foal, then have the foal and raise the foal, get it to the yearling sale, then get it to the racetrack and get it to cross the finish line first. There's so much that goes into it that you just try to do the little things, and if you do the little things right, hopefully it'll make the job easier and you'll have more success. 'Do the usual unusually well' is something I've kind of taken to heart and am building around."
How do you want to put your own stamp on the Claiborne brand?
"I just want to leave it better than the way I found it. If I can keep it going and am lucky enough to have kids and they want to do it, that's the goal, because that means we're still doing well, the business is still alive and fruitful. I think that would be a job well done.
"One thing I would love to see happen is cap the number of stallion certificates you can give a stallion. Say you get 100 stallion certificates, and that's all you get. I think that would help our game more than you'd realize.
"I think that would bring back the market. So you'd have a Grade 2-winning colt that's bred well. Instead of going to South America, he could come to Claiborne and breed 80 mares, because you can't breed 210 to someone else. I think it would certainly hurt some farms that rely on doing that, and I understand that's the business and it's a great way to make money, but I think it hurts the overall game when it overfloods the market, which is why we're always careful about breeding our stallions to too many mares, because we like to keep the supply low and the demand high.
"I remember my dad saying, 'When we went from breeding 40 mares to 60 mares with stallions, everyone said, You can't do that.' But that was back when you didn't have the ultrasound machine, and you had to breed the mare five times while they were in heat, so it was a little different."
The top of the market has been moving more and more toward a handful of highly commercial sires, and you have one of them in War Front. How is he managed differently from the rest of the Claiborne roster?
"He's actually managed a little differently. He breeds two times a day, and it's not because he's a bad breeder. He just does well that way, he gets his mares in foal that way, and we don't want to screw it up. Why mess with it if it's working?
"He'll breed a book of 105 or 110 mares. If we really wanted to, we could probably breed him to 160, but then we couldn't stand him for $200,000, so it's long-term versus short-term, and we like to keep the longevity of our sires. You want to get to 18 or 19 years old and they're still producing Grade 1 horses. We take that approach, and it's worked for us."
War Front has shown a broad international appeal, thanks in large part to the Coolmore partnership's high-profile purchases and ontrack success. How has that helped further interest in the sire?
"Coolmore's done an awesome job with the horse, helping make him as a sire. For that, we're very appreciative. They've obviously expanded his horizons in England and Ireland and all over Europe, even Hong Kong. It definitely helps. When the European buyers come over here, they all look at War Fronts because they see them winning their races."
What do you like to see in a horse?
"I like athletes. I was a manager for the Florida football team in college for two seasons, so I was around a bunch of high-quality athletes, and the thing that always struck me was even the defensive linemen were just athletes. They just moved differently from the big, fat guys.
"Obviously, you're not going to have a full team of studs, but the best players were just the athletes. I don't like if you go to see a horse walk and it's dragging its feet or can't turn and isn't agile, or if it's too fat or skinny. I just like the horses to be athletes, and that's what I look for.
"For stallions, there's so much involved. They have to have the page, they have the race record, they have to have the pedigree, the dam, sire, so much more than the yearlings.
"If you look at a horse like Algorithms, he's the most athletic stallion we have. I wasn't necessarily in charge yet, but he was one of the ones that we were bringing along when I was learning. Seeing him and how he's developed and how his 2-year-olds are doing, it's made my opinion correct that you have to be an athlete to be successful."
What is your assessment of the yearling market right now?
"Quality's going to sell. The upper echelon – Book 1 and 2 – will be fine. Book 3 will be fine. When you start to get into Book 4, that's when the quality drops off and I think the buying market drops off as well.
"For that, you've got to be a little hesitant, especially after seeing the results at the OBS sale. That market just isn't there anymore, for whatever reason. Not that the horses are falling off that bad. You still see stakes winners that come out of Books 5 and 6, you've just got to pick through them. I guess we're at a place where there's too many horses for the market right now. Unfortunately, if you have a bad one, you're in trouble."
Visit DRF Breeding Live throughout the Keeneland September yearling sale for more from Walker Hancock's Q&A.