Original post published on The Paulick Report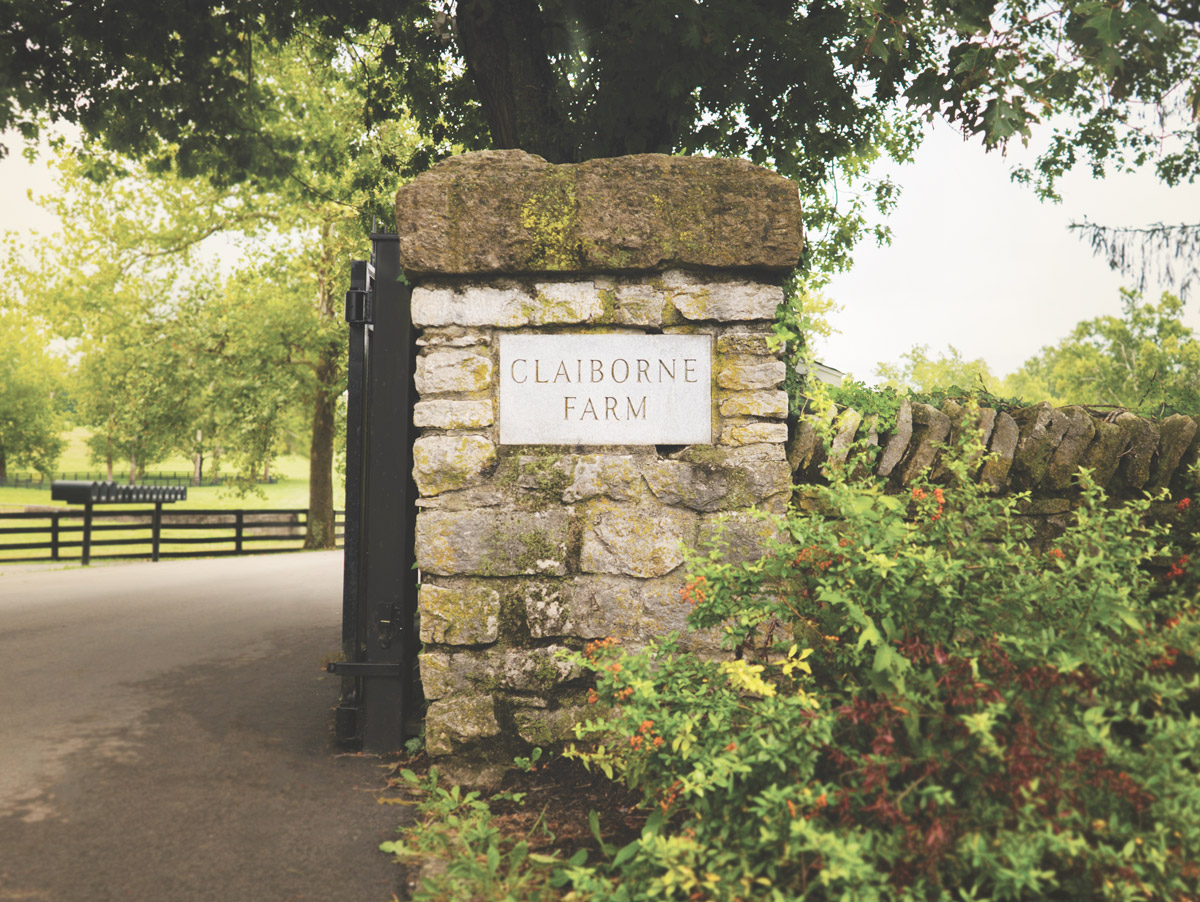 by Jen Roytz | 08.03.2016 | 4:23pm
We all tend to have our favorite competitions to watch during the Olympics. From Swimming and gymnastics to basketball, track and field, and a little beach volleyball thrown in for good measure, it seems like there's something for everyone.
This year, a growing number of people in Lexington's Thoroughbred community will be keeping their eyes on the equestrian competition, as one of their own is set to compete on the world's biggest stage.
Blackfoot Mystery, who along with rider Boyd Martin, will be competing for the U. S. Eventing Team in Rio beginning this weekend, has captured the interest and hearts of equestrians around the country. It's those that knew him in his formative years, however, who are as excited about his pending performances as they would be about a Grade 1 stakes race.
"It's very cool," said Bernie Sams, general manager of Claiborne Farm. "I started hearing people talk about this Thoroughbred heading to the Olympics, and I thought that was great, but then when I saw he was by Out of Place, I was tickled."
Out of Place, sire of Blackfoot Mystery, stood at Claiborne Farm after a racing career that saw him win the Whitney, Woodward, Phillip Iselin and Donn Handicaps (all Grade 1 races). Originally retired to Florida to begin his stud career, he was later moved to Claiborne, where he was born and raised, and remained there until his passing in 2010. He is buried in Claiborne's historic Marchmont cemetery.
While Blackfoot Mystery may not have reached the same heights as his father on the racetrack, over jumps he has soared.
Piloted by Martin, Blackfoot Mystery won the $75,000 Wellington Eventing Showcase in February, then took the Advanced A Division at The Fork. That prepared the 12-year-old chestnut gelding for his first CCI4* event (likened to Grade 1 competition) at this year's Rolex Kentucky Three-Day Event, where he finished an impressive 8th against some of the best eventing horses and riders in the world.
Bred by John O'Meara and raised at his Milestone Farm in Lexington, Ky., Blackfoot Mystery is out of True Mystery, a daughter of Proud Truth, a speedy stakes winner who set a new stakes record at Colonial Downs going a mile on the dirt.
O'Meara purchased True Mystery for $72,000 at the Keeneland November Sale, and after she foaled out the Not For Love foal she was carrying, bred her to Out of Place.
"I chose that mating to add more stamina into the mare," said O'Meara. "He was a big, strong foal that grew into a bigger yearling."
The goal was to sell the yearling that would become Blackfoot Mystery at the Keeneland September Yearling Sale in 2005, but bidding stopped at $24,000, failing to meet his reserve price.
"As a yearling he was big and strong, but he was a backwards kind of horse…not unattractive at all – just big and still growing," said James Keogh, who consigned the horse for O'Meara at Keeneland September. "You knew he was going to need some time to mature, and that's probably why he didn't find success as a racehorse."
O'Meara ended up selling Blackfoot Mystery privately as part of a three-horse deal to one of his clients, Chris Brakos.
"Chris lives in Blackfoot, Idaho and owns a potato farm. That's why he named him Blackfoot Mystery – a combination of the city and the horse's dam," said John. "He eventually sent the horses to California to race."
Blackfoot Mystery made just three starts as a 3-year-old and failed to hit the board, earning just $1,200.
It was after that third start at Hollywood Park that trainer Jesus Mendoza contacted Leigh Gray of Thoroughbred Rehab Center, a non-profit TAA-accredited aftercare facility that rehabilitates, retrains and rehomes ex-racehorses. Mendoza explained that while the horse wasn't ideal for racing, he would make a great sport horse for someone.
Blackfoot Mystery got his formative eventing training from Gray's friend, Shirley Aronson, before being competed by eventer Lisa Peecock and getting his first taste of eventing competition in California. Gray eventually sold him to upper-level eventing rider Kelly Prather, who brought him to the East Coast to train with her coach, Boyd Martin.
Martin, who competed at the 2012 Olympics for the U. S. aboard Otis Barbotiere after being long-listed by the Australian team in 2000, 2004 and 2008, was on the hunt for a horse with Olympic potential after retiring his top competition mounts, Trading Aces and Otis Barbotiere. Once he saw Blackfoot Mystery, his search was over. He soon put a syndicate together and purchased the horse from Prather and set out on a path to (hopefully) Olympic glory.
"Maybe I should just breed eventers," joked John O'Meara. "I got to spend a bit of time with Boyd when he was here for the Rolex. Holy smoke, I'm happy for the connections and for the horse. I will definitely be tuning in to watch him."
O'Meara, who also bred Going Wild, a multiple stakes winner and Kentucky Derby competitor, ranks breeding an Olympic horse as one of his biggest accomplishments as a breeder.
Keogh, an equestrian himself who often repurposes retired racehorses for fox hunting, jumping, eventing and other disciplines, feels a similar sense of pride for the affiliation he and his family have with the horse, who begins his Olympic career this weekend.
"I enjoy good horses, period. Dressage, eventing, racing – I just love horses and enjoy it all. I guess in that sense I'm just a big kid who never grew up," said Keogh. "[My daughter] Georgia has been following him for a while and Boyd has told me how highly he thinks of the horse. My family and I will definitely be watching the equestrian competition and rooting the horse on."
Sams says the same of Claiborne, noting that the farm is proud of their inaugural representation at the Olympic level.
"There are people from the farm who went out to watch him at the Rolex in April, like Dell [Hancock] and I know they'll be paying close attention to the coverage," said Sams. "Whereas I might have watched [the equestrian competition] in the past if it was on tv when I had time to watch, I will definitely be tuning in in for this year. Having a horse conceived at our farm in the Olympics…it's just so cool."
Olympic Equestrian Coverage:
Date Time Discipline Network
Saturday, Aug. 6 3:00-4:00pm Eventing (Dressage) USA
Sunday, Aug. 7 4:15-4:45pm Eventing (Dressage) MSNBC
Monday, Aug. 8 9:00am-2:00pm Eventing (Cross Country) USA
Tuesday, Aug 9 9:00-11:00am; Eventing (Stadium Jumping) USA
1:00-1:55pm
Thursday, Aug. 11 3:45-4:30pm Team Dressage MSNBC
Sunday, Aug. 14 1:00-1:45pm Individual Show Jumping NBC
Monday, Aug. 15 10:30am-12:30pm Individual Dressage USA
Tuesday, Aug. 16 12:30-1:00pm Team Show Jumping NBC
Wednesday, Aug. 17 11:00-11:30am Team Show Jumping Final NBC
Friday, Aug. 19 10:00-10:40am Individual Show Jumping NBC
3:45-4:30pm
*Blackfoot Mystery and Boyd Martin will compete in Eventing (Dressage, Cross-Country and Stadium Jumping)
Jen Roytz is a marketing, publicity and comprehensive communications specialist based in Lexington, Kentucky. A native of Cleveland, Ohio, her professional focus lies in the fields of equine, health care, corporate and non-profit marketing. She holds board affiliations with the Make a Wish Foundation, Thoroughbred Aftercare Alliance and the Retired Racehorse Project, among others. While she currently has no plans to build an arc, she is the go-to food source for two dogs, two cats and two off-track Thoroughbreds.
Email Jen your story ideas at [email protected] or connect with her on Facebook, Twitter and Instagram.
New to the Paulick Report? Click here to sign up for our daily email newsletter to keep up on this and other stories happening in the Thoroughbred industry.
Copyright © 2016 Paulick Report.