Story by B. Jason Brooks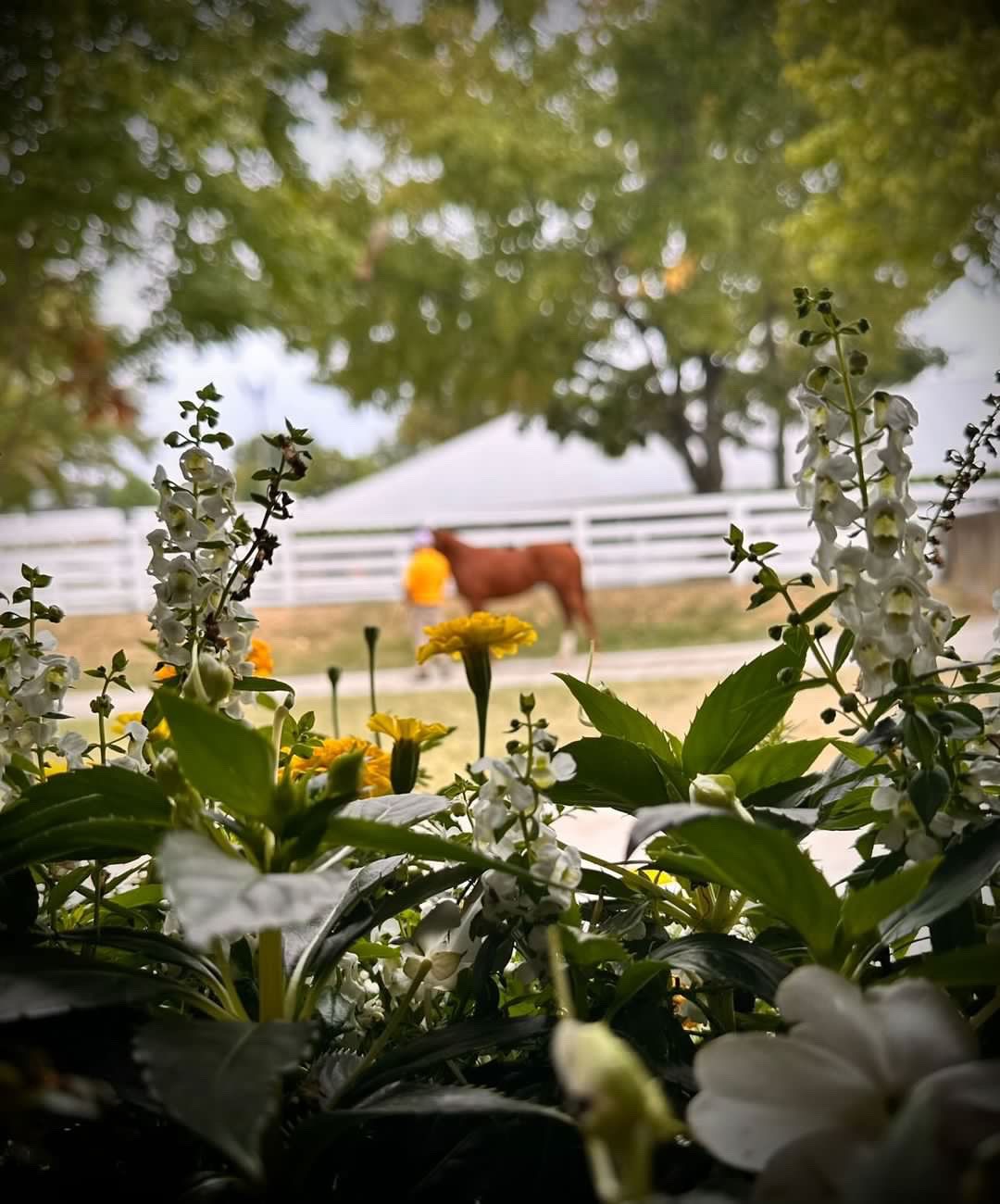 Photo from the 2023 Claiborne consignment at Keeneland. Credit: Travis Davis
Claiborne Farm female families are having a strong year in the U.S., winning a total of 28 graded stakes races, including five grade 1 wins, with four of them occurring over the summer.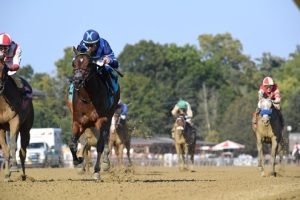 The grade 1 winners include 2-year-old Outwork filly Brightwork, recent winner of the Spinaway Stakes at Saratoga, 5-year-old Curlin colt Elite Power, winner of the Alfred G. Vanderbilt Handicap at Saratoga, 5-year-old Vronsky gelding The Chosen Vron, winner of the Bing Crosby Stakes at Del Mar, 4-year-old Uncle Mo filly A Mo Reay, winner of the Beholder Mile Stakes at Santa Anita, and 4-year-old Uncle Mo filly Adare Manor, winner of the Clement L. Hirsch Stakes.
Like the Phipps family's breeding operation which has been based at Claiborne for generations, the female families bred by the Hancocks have benefitted from mating to Claiborne's marquee stallions for multiple generations, translating to elite female families with success on the track and in the breeding shed.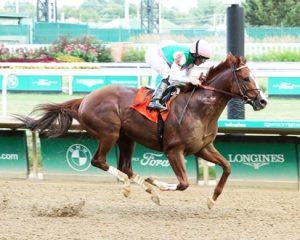 Given their success, it is unsurprising that fillies from these families significantly outperformed those from non-Claiborne families at the boutique Fasig-Tipton Saratoga Yearling Sale last month: 11 fillies from Claiborne families sold for an average of $415,000, an impressive 27 percent more than the $327,464 average for 69 fillies sold from non-Claiborne families.  Given the continued racing success of these families in recent weeks, one could rightly anticipate this sales trend to continue at the Keeneland yearling sale.
At the Keeneland September Yearling Sale, Claiborne Farm is consigning a select group hailing from some of the farm's deep, most successful winning families – some of which have tail-female lines of Claiborne-bred mares that go seven generations deep – as well as some from families which were brought to the farm more recently.  Below is a summary of Claiborne's Keeneland September consignment for yearlings from multiple generations of the farm's great female families which will undoubtedly be attractive to potential buyers and breeders.
Colts
Hip #266 is a colt by Claiborne international sire War Front and out of A.P. Indy mare Orate.  The colt is from the Preach branch of Claiborne's imported British mare Knight's Daughter, by Irish sire Sir Cosmo, bred by King George VI.  The colt's exquisite Claiborne female family goes six generations deep, with four of those mares – including Preach, Narrate, State, and Monarchy – identified by the late pedigree expert Ellen Parker as a reine-de-course mares or "queen of the turf" for their lasting impact as broodmares.  This is the family of sires Round Table, Pulpit, Johannesburg, and Tale of the Cat.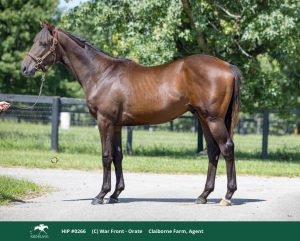 Hip #307 is a colt by Triple Crown winner Justify and out of War Front mare Secede.  His first three dams are Claiborne mares, from the family tracing back to stakes-winning Forty Niner mare Tour, bred by Claiborne in 1990.   Tour's descendants include Claiborne-bred multiple grade 1 winner Zensational, 2022 champion freshman sire Bolt d'Oro, and grade 1-winning sire Global Campaign.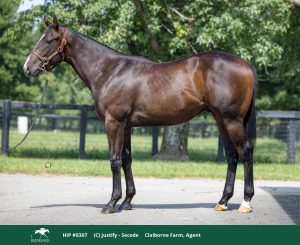 Hip #458 is another War Front colt, this one out of More Than Ready mare Black Dynamite.  In addition to the colt's SF Bloodstock-bred dam being purchased by Claiborne in 2020, the female family traces back to the Idle Gleam branch of Claiborne foundation mare Regal Gleam, by Hail to Reason (the colt's sixth and seventh dams), the latter mare a fourth-generation descendant of the great French mare La Troienne.  Regal Gleam's descendants include Claiborne-bred multiple grade 1 winners Regal Glint, Scan and Vision and grade 1 winners Killer Graces, Killer Ability, There Goes Harvard, and Scuffleburg.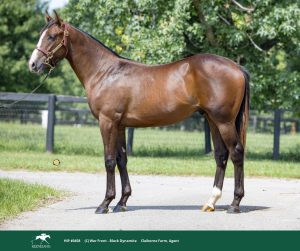 Hip #760 is an Uncle Mo colt out of graded stakes-placed War Front mare Vigor, with the first seven dams being Claiborne mares, from the Bound branch of British imported foundation mare Rough Shod II, by French stallion Gold Bridge.  The tail-female line includes three important reines mares, including Bound, Special and Rough Shod.  The illustrious family includes Claiborne-bred Horse of the Year Moccasin, Hall of Famer Gamely, and important stallions Sadler's Wells and Claiborne homebred champion Blame.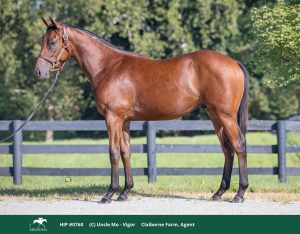 Hip #1205 is a Bernardini colt out of stakes-winning Distorted Humor mare Cheery.  The colt's first three dams are Claiborne mares, form the Yell branch of Wild Applause, by Northern Dancer.  Wild Applause is a daughter of reines mare Glowing Tribute, another family tracing back to La Troienne.  Descendants of Claiborne foundation mare Wild Applause include Claiborne-bred multiple grade 1 winner Elate, grade 1 winner Eastern Echo, and sires Congrats, Flatter, and Ironicus.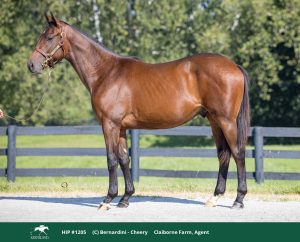 FILLIES
Hip #454 is an Into Mischief filly out of graded stakes-winning Horse Greely mare Bendable.  The filly's first seven dams are Claiborne mares, tracing back to foundation mare Lea Moon, by the farm's great imported British stallion Nasrullah.  The family includes grade 1 winner Martial Law, multiple graded stakes winners Clearly Now and Wend, and graded stakes winners Bendable, Eye In the Sky, Identifier, Jessica's Star, Rumsonontheriver, Sistas Stroll, and Speed Boat Beach.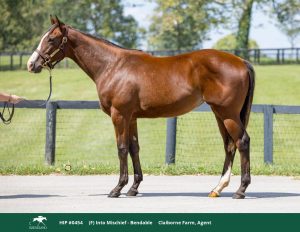 Hip #1158 is a City of Light filly out of Awesome Again mare Amen Again.  Her first three dams are Claiborne mares, from the Praise branch of Wild Applause.  She is from the same family as the above-mentioned Bernardini colt (Hip #1205) that includes Elate.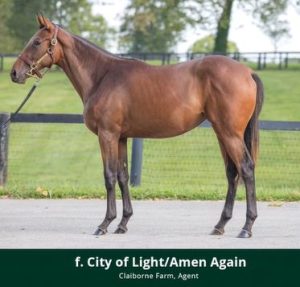 Hip #3048 is a filly by Claiborne sire Catholic Boy and out of Strong Hope mare Need.  Her Claiborne female family goes back three generations to Forty Niner mare Tour, the same family as the above-mentioned Justify colt (Hip #307).