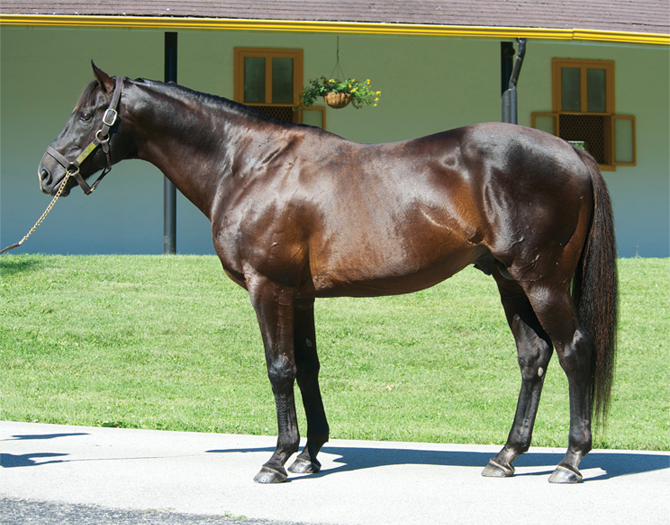 Pedigree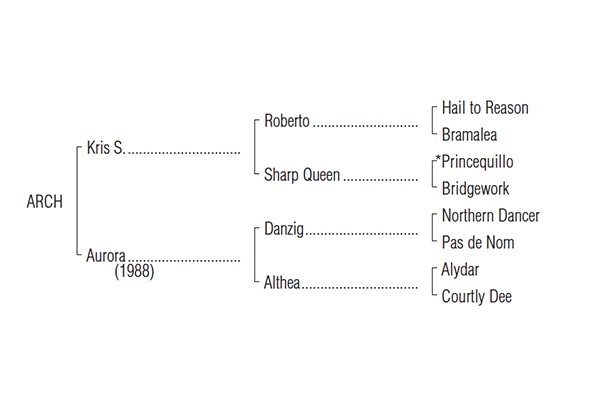 Race Record
| | | | | | |
| --- | --- | --- | --- | --- | --- |
| Age | Starts | 1st | 2nd | 3rd | Earned |
| 2 | 1 | 1(0) | 0 | 0 | $23,192 |
| 3 | 6 | 4(2) | 1 | 0 | $457,777 |
| Total: | 7 | 5(2) | 1 | 0 | $480,969 |
Multiple Graded SW
Won Super Derby G1 and
Fayette S. G3 over older horses
in Track Record Time
Progeny
Overview
In 2017, Top Runners include:
IT TIZ WELL – 1st Cotillion S. -G1, 1st Honeybee S. -G3, 1st Delaware Oaks – G3, 2nd Alabama S. -G1, 2nd Santa Ynez S. -G2, 3rd Santa Anita Oaks -G1
ARKLOW – 1st American Turf S. -G2
NYALETI –  1st Princess Margaret Juddmonte S. -G3, 2nd Duchess Of Cambridge Stakes -G2, 2nd Shadwell Rockfel S.-G2, 2nd Chesham S. @Ascot, 3rd William Hill May Hill Stakes -G2
INSTILLED REGARD – 2nd Los Alamitos Cash Call Futurity -G1
PATTERSON CROSS – 2nd Mac Diarmida S. -G2, 3rd W.L. McKnight H. -G3, 3rd Pan American S. -G2
NONNA MELA – 2nd Prioress S. -G2
LOTTIE – 2nd Fasig-Tipton Waya S. -G3, 3rd Rood and Riddle Dowager S. -G3
TAKEOFF – 3rd LeComte S. -G3
DARING DUTCHESS – 2nd Bewitch S. -G3
NOT TAKEN – 2nd Forever Together S.
ST. LOUIE – 3rd John's Call Stakes @Saratoga
In 2016, Sales include:
$550,000 2yo colt at OBS March to Robert McMartin, agent
$490,000 mare, Arravale, at Keeneland November Breeding stock sale
$450,000 filly at Fasig-Tipton Saratoga Select
$300,000 2yo colt at Fasig-Tipton Florida to West Point Thoroughbreds
In 2016, Top Runners include:
NONNA MELA – 1st Adirondack S. -G2
SYPHAX – 1st Tattersalls Acomb S. -G3
GRAND ARCH – 3rd Fourstardave H. -G1, 3rd Longines Dixie S. -G2
HEARTSPOKE – 3rd Bolton Landing S.
TARALENA – 3rd Memories Of Silver S.
FUNDAMENTAL – 2nd Tampa Turf Classic S., 3rd Sunshine Millions Turf S.
FOREST CIRCLE – 3rd My Trusty Cat S., 3rd Letellier Memorial S.
2015 Stakes Horses, include
GRAND ARCH – 1st Shadwell Turf Mile S.-G1, Fourstardave H.-G2, 3rd Breeders' Cup Mile-G1
BLINGISMYTHING – 1st Wilshire S.-G3, 2nd Megahertz S., 3rd Gamely S.-G1, Buena Vista S.-G2, Las Cienegas S.-G3
BENT ON BOURBON – 1st Iowa Derby-G3
GLENARD (GB) – 1st Warrior Veterans S., 2nd Fair Grounds H.-G3
PIQUANT – 1st Peeping Tom S.
FUNDAMENTAL –  2nd Commonwealth Derby-G2
STAY THE NIGHT – 3rd Prix Cleopatre-G3 at Saint-Cloud in 3rd start
MADE IN DETROIT –  2nd Aqueduct's Woodhaven S.
WATERWAY RUN – 2nd Florida Sunshine Millions Filly and Mare Turf S.
In 2015: 18 Yearlings Sold for $100,000-Plus, incl.
$675,000 & $475,000 colts at Saratoga
$575,000, $425,000, $400,000, $310,000, etc. at Keeneland September
$320,000 filly Topped OBS Select
In 2014: EIGHT Graded Stakes Horses, incl.
GRAND ARCH – King Edward S.-G2, 2nd Shadwell Turf Mile S.-G1, Fourstardave H.-G2
POMOLOGY  Lancashire Oaks-G2, 2nd Qatar Prix Vermeille-G1
NEWSDAD – Pan American S.-G2
WATERWAY RUN – Beaugay S.-G3, 2nd Hillsborough S.-G3, 3rd Perfect Sting S.
SUMMER SOLO – 3rd Belmont Oaks Inv. S.-G1
TRIPLE ARCH – 2nd Eatontown S.-G3, 3rd Sabin S.-G2, Gallorette H.-G3
TEMERAINE – 3rd Elkhorn S.-G2, San Luis Rey S.-G2
Top Runners, Lifetime
BLAME  $4,368,214, champion older male, Breeders' Cup Classic-G1, Whitney H-G1, Stephen Foster H-G1, etc., sire.
GRAND ARCH $1,888,230, King Edward S-G2, 2nd Shadwell Turf Mile S-G1, Fourstardave H-G2, 3rd Fourstardave H. -G1, 3rd Longines Dixie S. -G2
ARRAVALE $1,129,697, Horse of the Year and champion turf female in Can, E.P. Taylor S-G1, Del Mar Oaks-G1, Natalma S-G3, Alywow S, etc.
HYMN BOOK $996,448, Donn H-G1, Frank "Pancho" Martin S, Firethorn S, etc.
ART TRADER $978,998, Chairman's Trophy-G2, 3rd Cathay Pacific International Cup Trial-G2.
LES ARCS $959,662, champion older male in Eng, Darley July Cup-G1, Golden Jubilee S-G1, etc.
ARCHARCHARCH $832,744, Arkansas Derby-G1, Southwest S-G3, Sugar Bowl S, etc.
PINE ISLAND $666,800, Alabama S-G1, Gazelle S-G1, 2nd Mother Goose S-G1, etc.