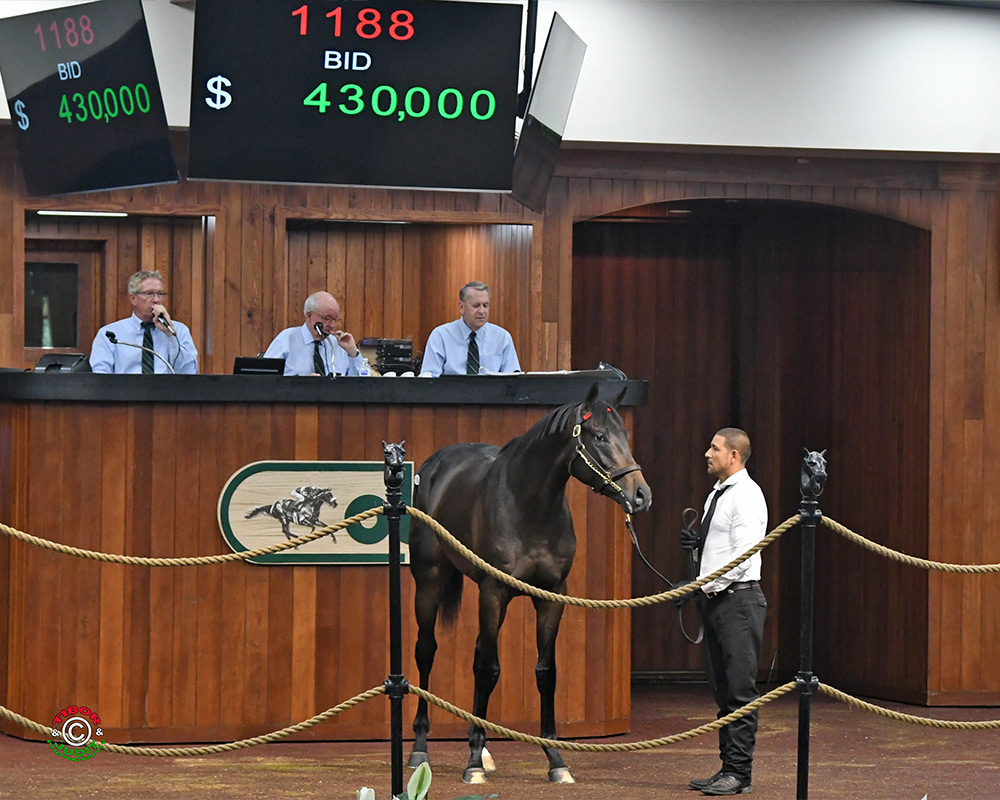 Claiborne stallion Lea impressed buyers with his first-crop 2-year-olds at the OBS April sale, as six of his offspring fetched six-figure prices, including a $430,000 colt.
Consigned by Eddie Woods, agent, as Hip No. 1188, the colt is out of the Bob and John mare Ebony Oro. He was bought by Nicholas Bachalard, who signed the ticket as J. A. S.
The colt was originally purchased as a yearling for $45,000 at the Fasig-Tipton July sale under Woods' Quarter Pole Enterprises.
Bred by Ellen B. Kill Kelley, he breezed two furlongs prior to the sale in :21 1/5. The colt hails from the family of stakes winners American Century (by Pioneering) and Energized (by Defrere).
"He's a good mover and has good shape to him," said Woods, who broke the colt at his training center in Ocala, Fla. "He's a good-natured horse."
Lea's other six-figure offspring at the OBS April Sale are below:
Hip 890: $190,000
o/o Alluvial Gold
C: Coastal Equine LLC (Jesse Hoppel)
B: Belladonna Racing LLC
Hip 1076: $170,000
o/o Clear March
C: Scanlon Training & Sales, agent
B: First Row Partners – Liz Crow, agent
Hip 370: $140,000
o/o Moon Meeting Too
C: S G V Thoroughbreds LLC (Steven Venosa), agent
B: Steven W. Young, agent
Hip 42: $120,000
o/o Gauge
C: Harris Training Center, agent
B: D. J. Stables
Hip 569: $105,000
o/o Run Lady Run
C: Grassroots Training & Sales LLC, agent
B: Mike Maker, agent
Other Claiborne stallions with six-figure horses at the OBS April Sale are as follows:
BLAME
Hip 1: $290,000
o/o Facethefront
C: All in Line Stables, agent
B: Eclipse Thoroughbred Partners
Hip 319: $160,000
o/o Marie Antoinette
C: Crupi's New Castle Farm, agent
B: Lothenbach Stable Inc.
Hip 700: $150,000
o/o Summer On the Lawn
C: Cary Frommer LLC, agent
B: Big Red Farm
FIRST SAMURAI
Hip 249: $310,000
o/o Lakenheath
C: Off the Hook LLC, agent
B: Charles H. Boden, agent for Colts Neck Stables
Hip 194: $105,000
o/o Juke
C: Top Line Sales LLC, agent
B: Al Aasfa Racing
Hip 223: $100,000
o/o Kitten's Peak
C: Hemingway Racing and Training Stables LLC, agent
B: Narvick Int'l, agent for M. U. R.
FLATTER
Hip 1214: $375,000
o/o Ever Elusive
C: Woodford Thoroughbreds, agent
B: Dennis O'Neill
ORB
Hip 125: $150,000
o/o His Beauty
C: Randy Miles, agent
B: Patricia's Hope LLC
Hip 692: $135,000
o/o Stormy Frolic
C: Hidden Brook, agent
B: Stonehedge LLC